Posted on
Police Cooperative Credit Union sponsors Police Christmas Caroling Contest 2020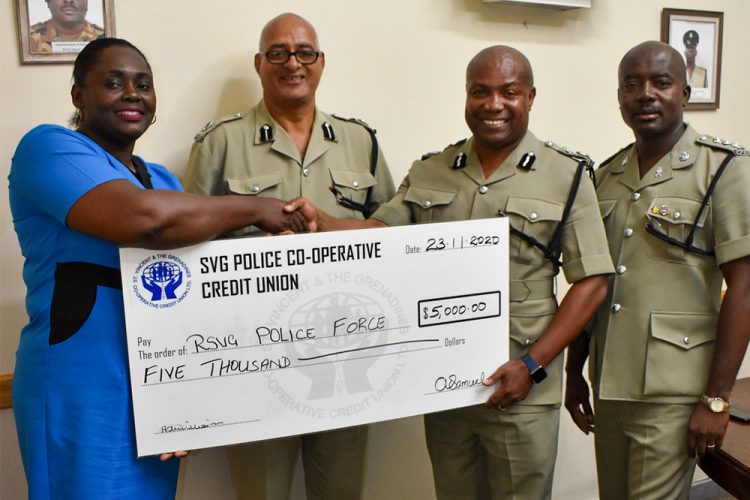 The Police Cooperative Credit Union (PCCU) has once again partnered with the Royal St Vincent and the Grenadines Police Force (RSVGPF) in sponsoring the annual Police Christmas Caroling Contest.
Since 2012, the Police Credit Union has been the major sponsor of this very important event on the calendar of activities of the organization and the citizens of St. Vincent and the Grenadines.
On November 23, Ayanna Samuel, manager of the PCCU handed over a sponsorship cheque in the sum of $5000 to Commissioner of Police Colin John to offset expenses for this year's contest.
During the handing over ceremony, Samuel said that the PCCU operates as one of the premier financial institutions in St Vincent and the Grenadines (SVG) and has been in existence for the past 17 years. She disclosed that while the PCCU is the smallest credit union in SVG, it is one of the fastest growing with an asset base of over 20.4 million dollars.
According to the manager, the PCCU continues to partner with the RSVGPF on numerous activities and has chosen once again to sponsor the Police Caroling Contest for the eighth consecutive year. She claimed that PCCU endeavours to honour its corporate social responsibility to the community of SVG and encourage persons to join the credit union. She reminded all that anyone can join the PCCU because as its motto says "you don't have to be a police to be a member".
In accepting the cheque, Commissioner of Police Colin John expressed gratitude to the PCCU on behalf of the Police Force for sponsoring the Christmas Caroling contest for yet another year. The Commissioner said that the PCCU and the RSVGPF are indelibly joined together because the former is a product of the Police Force. He commended the board and management of the PCCU for their generosity and partnership with the RSVGPF over the years.
Commissioner John expressed optimism about the future undertakings of both organizations and stated that he is confident that the PCCU and the Police Force will continue to work together to realize tangible and mutually rewarding benefits to both organizations and its members. (Police Public Relations)