Posted on
Covid-19 safety protocols will be in effect at annual Independence Day Parade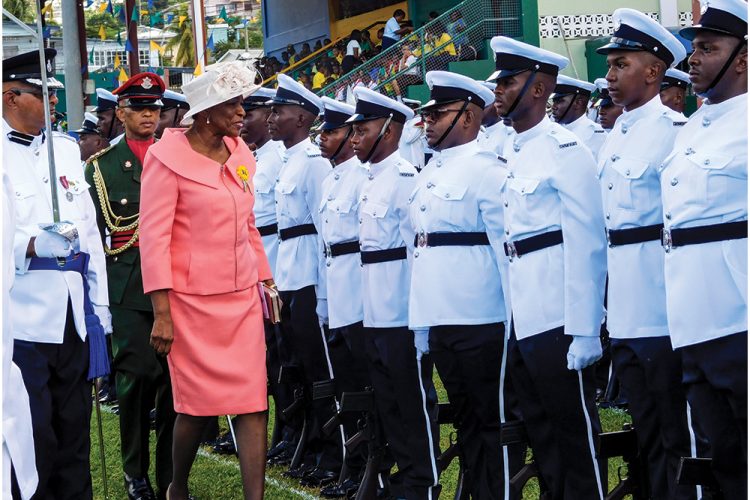 A military parade to mark the 41st anniversary of Independence of St Vincent and the Grenadines will take place at the Victoria Park on Tuesday October 27, 2020 beginning at 8:00 a.m.
Prior to the commencement of the parade, there will be arrival of the dignitaries including the Commissioner of Police, the Prime Minister, Dr Ralph Gonsalves and Her Excellency, the Governor General, Dame Susan Dougan. This will be followed by a prayer for the nation which will be rendered by a member of the SVG Christian Council.
Spectators are asked to be seated by 7:40 am.
Following the prayer for the nation, these events will take place in the order shown:
a. The Salute and Inspection. Her Excellency, the Governor General receives the Royal Salute then inspects the guards on parade.
b. The Troop. The Police Band will march along the parade from east to west; then from west to east
c. Salute to the Nation (Twenty One (21) Gun Salute).
d. March Pass. The troops will march past in slow and quick time.
e. Following the March Pass, the entire parade will advance in review order in preparation for the Independence Address
f. Address to the Nation by the Hon. Prime Minister
g. Final Salute to the Nation
h. Departure of dignitaries
i. Dismissal of Parade
The 41st anniversary of independence military parade will be under the command of Superintendent of Police Timothy Hazelwood with Assistant Superintendent of Police, David Trumpet as Parade Adjutant.
Spectators are strongly advised to adhere to the COVID-19 protocols by wearing a facemask. Temperature checks and hand sanitizing will be done at the entrances to Victoria Park.
There will be no "Up Town" salute.
The Independence anniversary is being held under the theme: "With Strength, Honour and Dignity, We stand Resolute at Forty one and Beyond".