Posted on
No. 23 Ranger Guides have their highest recruitment to date, 113 recruits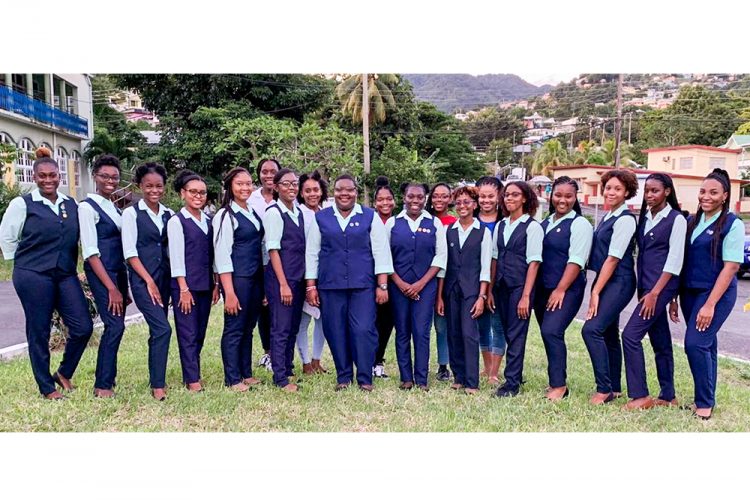 KINGSTOWN, SAINT Vincent and the Grenadines, October 12, 2020 — The No. 23 Ranger Guides Unit opened a new year of activities on Friday, October 9, 2020, undoubtedly a little late but starting off with its highest recruitment to date, 113 Ranger Guides.
To steer the operations and activities of the Unit for the upcoming year, the Unit held its annual elections following nominations and online campaigning on social media networks. The voting commenced on Sunday, October 4, 2020 and was anonymous via the Election Buddy platform.
Twenty-two young ladies were nominated for 13 vacant positions on the executive which included the posts of Chairperson, Deputy Chairperson, Secretary, Treasurer, Fundraising Officer, Public Relations Officer, Publications Officer, Log-Book Keeper, Projects Development Officer, and Year 1, 2 and 3 Representatives.
Among the nominated three who ran for the position of Chairperson, Mikayla Friday was successful with her campaign "Manifesting, Motivating and Molding the leader within" capturing 52.7 per cent of the votes, while Tiyana Roberts obtained 25.7 per cent of the votes to become this year's Deputy Chairperson with the campaign tagline "Feel like you have a say? Vote Tiyana today!". For the position of Secretary Jeshari Monroe obtained 51.4 per cent of the vote and serving as Assistant Secretary, is Aliyah Mofford. Breah Ollivierre will serve as this year's Project Development Officer having received an overwhelming vote of confidence and srving as Assistant Project
Development Officer, Zuania Baptiste.
Other elected members of the executive include the following: Gabriella Joseph – Treasurer; Athalia Ollivierre – Fundraising Officer; Camille Welcome – Assistant Fundraising Officer; Jirahmae Kennedy – Public Relations Officer; Teyana Williams- Assistant Public Relations Officer; Trudi Quashie – Publications Officer; Tamika Miguel – Log-Book Keeper; Alancia Martin – Assistant Log-Book Keeper; Naja Thomas – Year 1 Representative; Zaida Small- Assistant Year 1 Representative; Misha Young –Year 2 Representative; Shian Lewis – Assistant Year 2 Representative; Oslya Ollivierre – Year 3 Representative; and Jévorn Bascombe – Assistant Year Representative.
This new executive body will execute its year of activities under the theme "Rise of the Woman = Rise of a Nation".