Posted on
SVG MA designates October 16 as Pink Day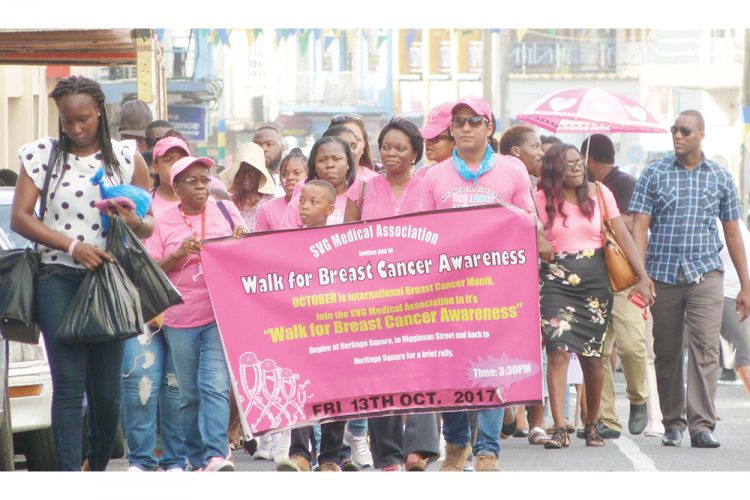 FRIDAY, OCTOBER 16 has been designated Pink Day as the SVG Medical Association remembers women who have been affected by breast cancer.
The disease continues to be one of the leading causes of death and morbidity in St Vincent & the Grenadines (SVG), and the Medical Association continues its quest to help as many women in our society as possible who are struggling with this potentially aggressive disease.
It has been more than 15 years since the SVG Medical Association began its program to raise awareness of the disease and to support women who are afflicted by Breast Cancer.
"Over the past year, our organization assisted several women by covering the cost of laboratory tests, medications, travel costs for radiotherapy within the region, occasional socioeconomic needs when it was necessary and possible for the Association to provided assistance. We plan to continue this support with various fundraising activities. Within the past five years since the Association embraced a partnership awareness in support of patients affected by Prostate Cancer, the organisation has provided some support to males with the disease. Prostate Cancer Awareness is commemorated in the month of September," a release from the SVG Medical Association said.
Each year, the SVG public has participated in our signature Pink Cap City Walk and Pink Day Sales event, as well as the Classic 5K Walk/Run which are the organization's major fund-raising activities.
"For this, we are extremely thankful. This year however, because of the COVID-19 pandemic, the SVG Medical Association will not host these crowd gathering events because of the global initiative to defer these types of activities. Even though it appears that St Vincent has not experienced COVID cases in the manner shown in other places around the world, our Organization believes that it is prudent that we maintain the high level of surveillance in this period of the pandemic," the release said.
Nevertheless, the SVG Medical Association has earmarked Friday October 16 as PINK DAY, and invites the public to WEAR PINK on that day to remember all the women who have been affected by Breast Cancer including those who have unfortunately passed away and those currently suffering with the disease.
"Join us. With your support, we can continue the work that shows "WE ARE PUTTING OUR STRENGTHS TOGETHER" in the battle against Breast Cancer," the releas