Posted on
FFS Programme launched to help build farmers capacity in the area of animal nutrition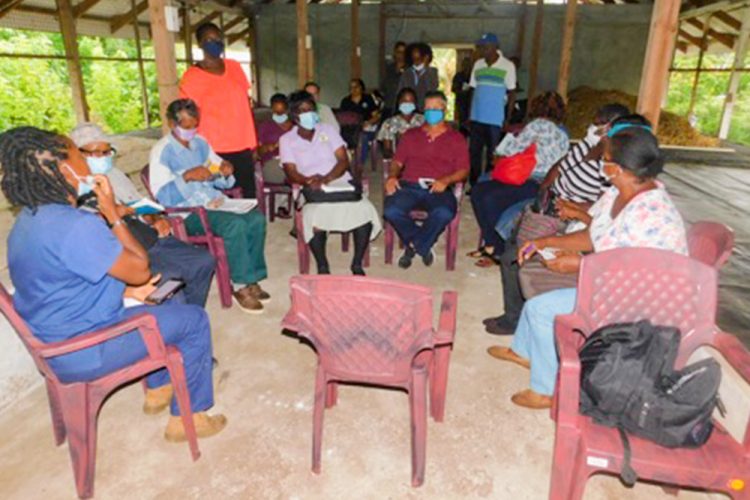 The Ministry of Agriculture, Forestry, Fisheries, Rural Transformation, Industry and Labour and the Inter-American Institute for Cooperation on Agriculture (IICA) launched a Farmers Field School (FFS) programme for small ruminant farmers from Marriaqua and other areas on October 6, 2020.
The programme was launched as part of an IICA-Funded Project titled: Capacity Building to Support the Development of the Livestock Sector in St. Vincent and the Grenadines. The Ministry of Agriculture is the main beneficiary of this project, which seeks to provide technical and material support for the development of the poultry and the small ruminant sectors.
The FFS is an intensive programme of training directed at small ruminant farmers and intended to build their capacity in the area of animal nutrition. The approach provides for training of farmers through regular engagements and intensive, hands-on exploration of the subject matter. It is anticipated that the beneficiaries of the training would have enhanced knowledge in the areas of anatomy and function of the polygastric stomach, nutrients and their function, maintaining healthy ruminal ecosystem, forage quality, ration formulation and forage conservation methods.
Speaking at the opening ceremony, Michael Dalton, IICA's Technical Specialist said, "Livestock development is one of the prioritized areas identified by the Ministry of Agriculture for support from IICA. The project was developed at the request of the Ministry and will be collaboratively implemented with the Animal Health and Production Division to assist small ruminant farmers, who are often constrained in their enterprises by poor nutrition even as an abundance of feed material are available."
Renato Gumbs, Deputy Chief Agricultural Officer, in addressing the participants expressed his satisfaction with having the activity. He expressed his own concerns with the challenges faced by farmers in acquiring feed for animals, especially in the drier periods of the year and the efforts that the Ministry must periodically make to assist. He emphasized the need for farmers to invest in alternative sources of livestock feed using the available feedstock.
Dr Kathian Hackshaw, Chief Veterinary Officer, in her address emphasized the importance and timeliness of the workshop. According to Hackshaw, "This FFS on Ruminant Nutrition will give emphasis to the improvement of indigenous production systems and to the improvement of the productivity of the small ruminant breeds within their own environment leading to increased income for farmers."
Fifteen small ruminant farmers are participating in the FFS, which is expected to run through the month of October on two days in each week. The workshop is being facilitated by a team of officers from the Animal Health and Production Division, headed by Dr Nicole Timm, Animal Nutritionist.
IICA is the specialized agency for agriculture in the Inter-American system, with a mission to encourage, promote and support its 34 Member States in their efforts to achieve agricultural development and rural well-being through international technical cooperation of excellence.