Posted on
FLOW rewards children of staff members entering secondary school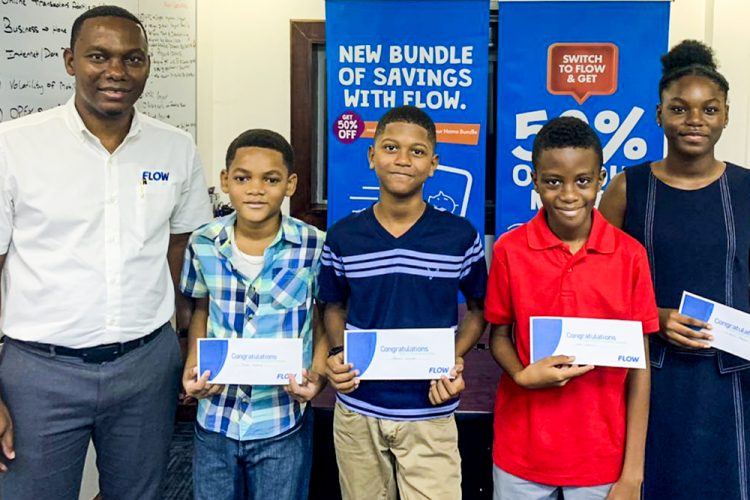 Leading telecommunications provider Flow has once again awarded scholarships and bursaries to children of its employees who were successful in the recent CPEA exams.
Four student recipients and their parents were hosted by FLOW St Vincent's Country Manager Wayne Hull at his Kingstown offices. Kai Francis (1st place in a three-way tie), Tristan Frederick, and Siobahn Roberts all received scholarships in support of their secondary school education. Dominic Ollivierre a resident of Union Level Bequia received a one-year bursary.
Kai Francis is the son of Samantha Campbell, employed as the Country Manager's PA; Tristan Frederick son of technician Andrea Fredericks, and Siobahn Roberts is the daughter of Field Services supervisor O'Keith Roberts.
Country Manager Hull in his brief speech, encouraged the students to stay focused, work hard, and remain determined to succeed. Hull stated, "Your journey has just begun. Congratulations to the parents of these diligent students, and I know you will continue to nurture them to succeed. I am proud that our company continues to reward excellence and invest in education for another year. Thirty-five years ago it started as an initiative to support our employees and was expanded to a national award to Flow customers, scholarships to students who participate in the Lion's Club Public Speaking Competition, and the top student after remediation in partnership with the Ministry of Education."
Marketing & Communications Manager Nikala Williams-Rogers also addressed the audience. She highlighted how thrilled the Country Manager was to meet with the students and she encouraged the students to continue their hard work. "I can already see some future island scholars here today," Williams-Rogers further stated.
Hull explained, "We make an annual investment of $50,000 in the Flow scholarship program." The new secondary school entrants will receive $1400 annually from forms 1-3, $1600 annually forms 4-5, and $2000 annually while attending the Community College.
The students were also reminded that to retain their scholarships it was important to remain in good standing with their studies throughout both their secondary and community college school life.