Posted on
Hotels approved for quarantine on mainland and in the Grenadines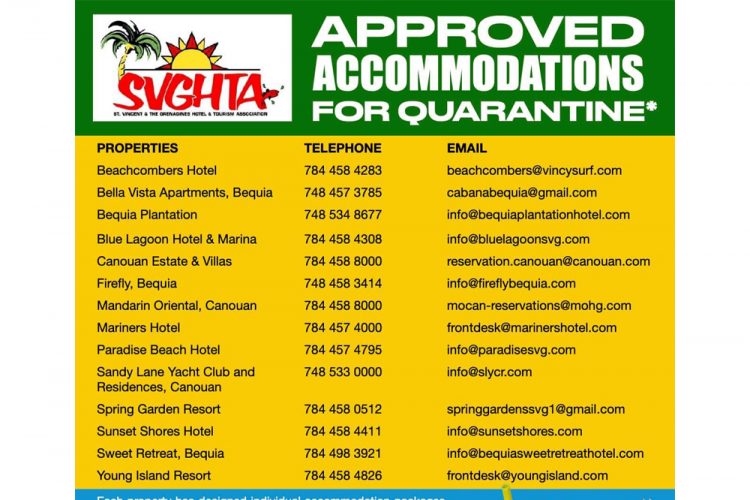 The Ministry of Health and the St Vincent and the Grenadines Tourism Authority (SVGTA) have published a list of 14 hotels and guest-houses that may be used as quarantine facilities by persons entering the country.
For a price, passengers arriving in the country may spend their first five days of quarantine at The Beachcombers Hotel – Villa, Bella Vista Apartments – Bequia, Bequia Plantation Hotel, Blue Lagoon Hotel and Marina – Ratho Mill, Canouan Estates and Villas, Firefly – Bequia, Mandarin Oriental – Canouan, Mariners Hotel – Villa, Paradise Beach Hotel – Villa, Sandy Lane Yacht Club and Residences – Canouan, Spring Garden Resort – Spring, Sunset Shores Hotel – Villa, Sweet Retreat – Bequia and Young Island Resort.
The list of properties has been announced as authorities have strengthened the protocols that passengers must follow on arriving from the United States.
The change in protocols follows an upsurge of coronavirus cases here last weekend.
Initially, persons arriving in SVG with a negative COVID-19 PCR test, done at least 72 hours before arriving were not quarantined, while persons who did not arrive with a negative test had to quarantine for 24 hours until they received the results of a PCR test done locally.
With the upsurge of cases and the refusal of some persons to adhere to the quarantine requirements, the authorities have now made it mandatory for every person entering the country from COVID-19 hotbeds to quarantine at a government approved facility at the travelers cost.
This Saturday July 25, passengers arriving from the United States onboard the American Airlines (AA) flight 945 must factor in hotel accommodations into their travel cost.
The protocols are:
(1) All passengers must arrive with a negative COVID-19 PCR test result
(2) They must arrive with a proof of reservation for five nights in a hotel approved by the Ministry of Health
(3) Passengers will be quarantined in that Ministry of Health approved hotel for five days and five nights
(4) Passengers will be tested for COVID-19 before they are released from the Ministry of Health approved hotel
(5) Their quarantine will continue for nine to 16 days in an approved home or a government approved facility after the five nights in a hotel. Therefore all arriving passengers will be required to remain in quarantine for 14 to 21 days.
Prices at the approved hotels vary between EC$300 and EC$400 a night including meals.
An official at the SVGTA told SEARCHLIGHT that the listed establishments offered their services and they have been checked and are up to standard to be used for the purpose of quarantine.