Posted on
Invest SVG Hosts Beach Clean Up to Mark World Oceans Day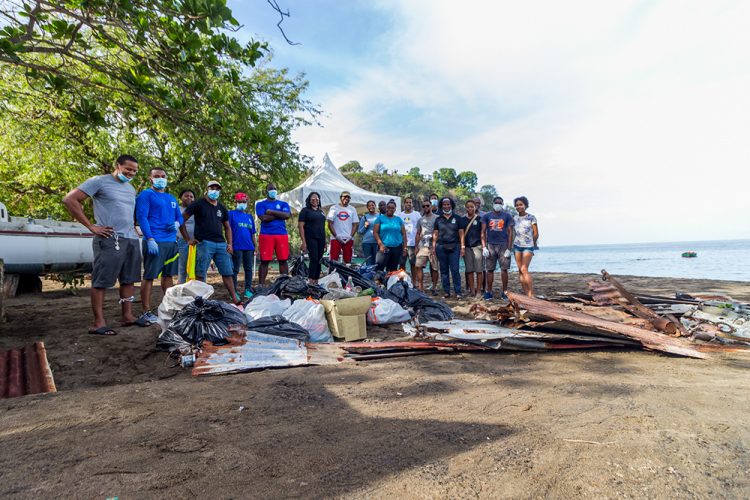 To celebrate World Oceans Day (June 8, 2020), staff at Invest SVG successfully executed a beach clean-up event at Questelles; joined by residents, members of the wider public and the Minister of Finance, Sustainable Development, Economic Planning and Information Technology.
The event, which took place last Saturday, June 6, saw approximately 26 persons collecting garbage – giving the beach a much-needed boost to restore its usual state of cleanliness. Questelles Beach is usually cleaned on a regular basis by a community group, however, due to the onset of the COVID-19 pandemic, these efforts have understandably tapered off over the past couple months.
Invest SVG Marketing Manager Omari France said that the investment agency is pleased with the quantity of garbage that the team was able to remove from the popular beach. He also urged beach users to be more mindful of disposing of refuse properly.
"As part of its mandate to facilitate direct investments, Invest SVG is also tasked with enhancing the investment process for local and non-local investors. It is imperative that we do our part as good corporate citizens of St. Vincent and the Grenadines to protect our thriving 'blue economy'," explained France.
"We boast some of the most beautiful beaches in the world with excellent sailing, diving and snorkeling waters, which also offer an abundance of food. We must do our part in protecting our resources for future generations of Vincentians and potential investments.
Our intent is to set the ball rolling for other institutions, individuals and community groups to get involved in regular beach clean-ups across St. Vincent and the Grenadines. We all play a part in shaping the nation that we all envision."
Items removed from Questelles Beach included: plastic bags, packaging, broken toys, bottles (plastic and glass), galvanise, sanitary items, car parts and discarded fishing equipment – amongst other items.
Invest SVG extends its gratitude to the Central Water and Sewerage Authority (CWSA), OSV Group, Bonadie's Supermarket #2, Tus-T Water and the National Parks, Rivers and Beaches Authority for their contributions and assistance.
France added: "A special thanks to the community of Questelles – who welcomed us with open arms, members of the public and the Minister of Finance Hon. Camillo Gonsalves, who all chose to give their personal time to this worthy cause!"