Posted on
Front line workers gifted 2500 masks by Rotary Club of St Vincent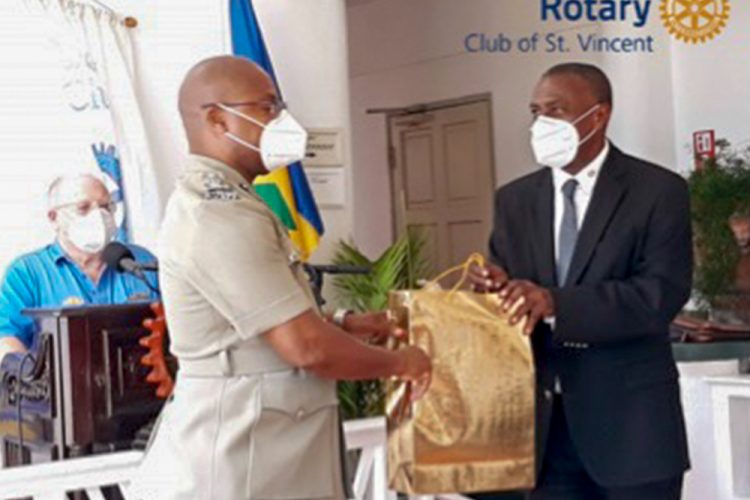 The Rotary Club of St Vincent on Monday donated 2,500 masks at a ceremony held at the Grenadine House, in full observance of personal hygiene and physical distancing protocols.
Presentations of KN95 masks as well as non-surgical grade masks were made to seven organisations where front-line workers serve on a daily basis. The Royal St. Vincent and the Grenadines Police Force, The Customs and Excise Department, The Thompson Home, The Kingstown Town Board, The Ministry of Health – Public Health Workers including Sanitation Workers, The Lewis Punnett Home and the Vincentian Transportation Association, were all recipients of masks donated by the Rotary Club of St. Vincent, valued at EC$7,000.00.
Delivering brief remarks, President of the Rotary Club of St. Vincent, Reuben John, affirmed the Club's commitment to service throughout our local community, and the mandate to provide continued meaningful support to the Vincentian citizens at a time such as this, as we work together to contain the spread of the deadly COVID-19 virus.
Representatives of the various organisations in attendance expressed gratitude to the Rotary Club of St. Vincent, noting that the donation of masks was quite timely as existing resources were low and the need for the masks will continue to be high especially as we learn to adjust to life amidst these new norms.
Commissioner of Police Collin John, on receipt of the packages for the RSVGPF, expressed gratitude on behalf of the Officers who are on the front line, working tirelessly to ensure the continued safety of our nation's citizens. Other recipients present included Leanna James, Deputy Comptroller of the Customs and Excise Department; Mrs Annelle Thomas, President of the Thompson Home Board; Cuthbert Knights, Permanent Secretary in the Ministry of Health, Wellness and Environment; Ann Williams and Annis Daniel-Johnson of the Kingstown Town Board on behalf of the local Vendors.
The Rotary Club of St. Vincent continues to encourage all members of the public to practice proper personal hygiene, observe public health protocols, practice social distancing and to act responsibly as we work together to contain the spread of the COVID-19 virus.