Posted on
Vincentians in The US Called to be Counted in Census 2020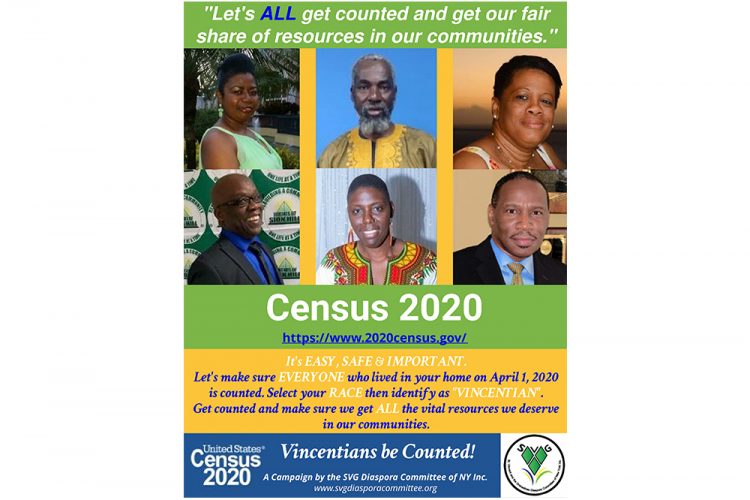 The SVG Diaspora Committee of New York Inc., which is celebrating its 10th anniversary this year, is calling on all Vincentian residents in the United States to be counted in the decennial US Census 2020.
The census, which takes place every 10 years was last taken in 2010. Census Day US was April 1, 2020, where anyone living in a household or group facility should have been counted. Census activities have been extended to October 31, 2020 due to the COVID-19 pandemic. This means persons still have the opportunity to record their place of residence on April 1, 2020.
Trillions of dollars in funding for everything from childcare, schools, healthcare, affordable housing, social benefits, transportation and political representation is determined based on the census count. An undercount means that less resources are allocated to those communities. New York City's 2010 census participation rate was 62%, well below the national average of 76%, but in Brooklyn where the largest Vincentian diaspora community resides the census participation rate was only 44%.
In 2017, the US Census Bureau American Community Survey estimated that the number of Vincentians in the USA was about 24,000, with Central Brooklyn recording the largest share. This year, the 2020 Census will for the first time include a question that will allow census takers to identify their place of origin. Chairperson the Diaspora Committee notes that this is an excellent opportunity for Vincentians (also called Vincies) to be counted." She speculates that "if attendance at the Vincy Day USA picnic, which takes place in New York annually, is any indication of the true size of the Vincentian population, then the Vincentian community has likely been underestimated." The committee urges Vincentians, and other immigrant populations, not to be afraid of being counted as there are no questions on the census that asks for citizenship status and there are federally enforceable laws that prohibits the sharing of individual information. Census data is only shared in aggregate.
Mason urges Vincentians to "show up and get counted on the census so we can get the resources our communities deserve."
"To encourage the counting of Vincentians in the 2020 Census, the SVG Diaspora Committee of NY Inc. is launching a social media campaign that will feature Vincentian heads of organizations and prominent Vincentian personalities on flyers. It will also host a Zoom Census Panel Discussion in June to coincide with Caribbean American Heritage Month. The first flyers (attached) will feature prominent Vincentian Vaughan Toney, CEO of the Friends of Crown Heights Educational Centers, and leaders of several Vincy organizations," a release from Sherril-Ann Mason, Chairperson, SVG Diaspora Committee of NY Inc. said.
The committee's strategic 2020 goal is to foster greater collaborations with other Vincentian organizations. In April, it spearheaded a collaboration with three other Vincentian organizations (Friends of Sion Hill, Vincycares and Vincy Liberators) in a "#VincyStrong" First Responders Lunch Delivery initiative. The initiative saw the distribution of 100 prepackaged lunches to frontline healthcare professionals at four NYC hospitals: SUNY Downstate, Kingsbrook, Interfaith and Jamaica Hospital on April 30, 2020. It was also an opportunity to support two Vincentian businesses, David's Bakery and Tastee Bites.
"The partnership with other Vincentian organizations on the Census 2020 initiative is another important strategic effort. The committee pledges to continue its thrust to collaborate with other Vincentian organizations in the future as a way of forging stronger bonds and to leverage the full collective power of the community. The motto of the SVG Diaspora Committee of NY Inc. is "One People, One Nation". The call for Vincentians in the USA to complete Census 2020 is an opportunity to accurately determine the true strength of the Vincentian community," the release said.
The Census 2020 survey is made up of 10 questions and can be completed online, via phone or by mail. Persons can go to https://.my2020census.gov or call 844-330-2020 for more information.