Posted on
Vincentian Recruit Sails Through Royal Navy Training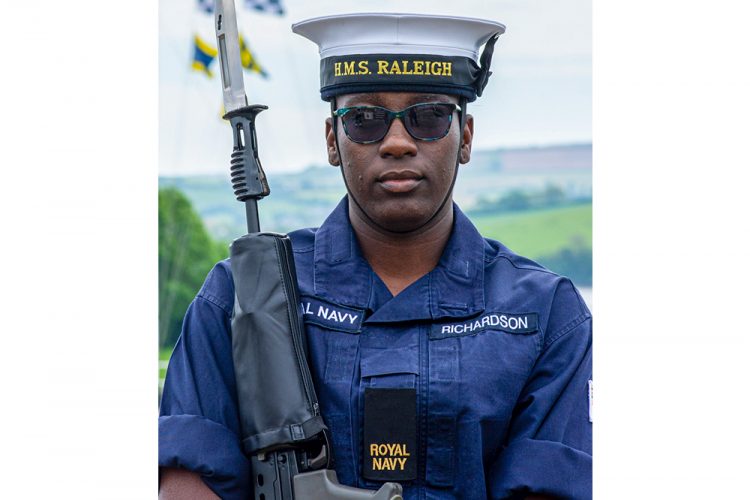 A 20-year-old recruit from Kingstown, St Vincent and the Grenadines has completed her basic training to serve in the Royal Navy.
Logistician (Supply Chain) Avylen Richardson joined the Royal Navy in March, arriving at the gates of HMS Raleigh, in Cornwall, UK, for an intensive 10-week course.
She said: "I was seeking a career and was interested in military stuff. I decided that the Royal Navy might be what I wanted and thought I would give it a try. I was also interested in the adventure and the life-time rewards the Royal Navy has to offer."
The course is designed to transform civilians into sailors and teach recruits the skills they will rely upon throughout their careers.
Avylen said: "For me training has changed me as a person. I can now see the greater side of me. When I doubted myself and felt like I couldn't make it, the staff helped me get through. To complete the 10 weeks, you must have the right mindset because you are pushed to the max. You are expected to give 100% in everything, and it is all worth it, in the end. The best thing is you are never alone, and the staff will never watch you fall. I'm so proud of my achievement. I will continue to work hard and want to achieve more things in the Royal Navy. I was born in St Vincent and made in the Royal Navy."
Avylen is now ready to move onto her specialist training. Once qualified she will join a team who are responsible for ensuring the ship or shore establishment has everything it needs to operate from bullets to bed linen, to fuel and food.
The Royal Navy's Initial Naval Training course is underpinned by nine Core Maritime Skills that are the foundations of naval life and underpin operational effectiveness. Recruits are taught the basics of Naval discipline and customs. They learn about navigation and are given the chance to take the helm of their own medium sized inflatable boat during a waterborne orienteering exercise. Royal Navy personnel can also be called upon to play a vital role in land-based operations, so recruits undergo training in basic combat skills which includes survival in the field.
Fitness is a key component of the training and is delivered using a disciplined method of military fitness which focuses on developing co-ordination and individual physical strength and endurance. As the course progresses the recruits take part in three extended exercises to test their skills and understanding of the principles they have been taught.
Details of career opportunities within the Royal Navy are available online at www.royalnavy.mod.uk/careers or by calling the Recruitment Line on 03456 00 53 02.