Posted on
Police Officers Celebrate 20th Anniversary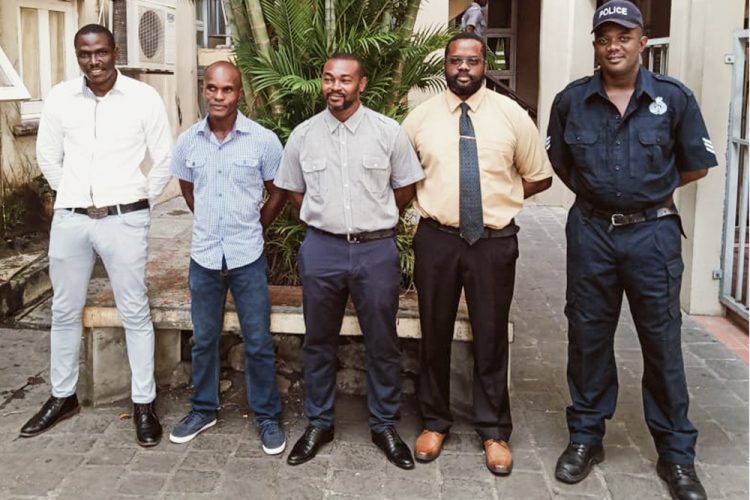 Eleven members of the Royal St Vincent and the Grenadines Police Force (RSVGPF) on May 10 and 12, 2020 celebrated 20 years of service to the organization and the people of St Vincent and the Grenadines (SVG) under the theme "20 years of excellence and continuity through sacrifice".
These officers are: Corporal 19 Lee Archibald, Corporal 103 Germano Douglas, Corporal 147 Marle Lewis, Police Constable 21 Gary Cummings and Police Constable 299 Dominique O'Garro who enlisted in the organization on May 10, 2000; and Sergeant 560 Olson Rodney, Sergeant 138 Emil Jacobs, Sergeant 508 Irackie Huggins, Corporal 638 Kiel Rogers, Corporal 408 Kerwin Ince and Police Constable 639 Rohan Samuel who joined the organization on May 12, 2000.
These officers were enlisted into the RSVGPF along with 12 others and underwent six months of initial police training at the RSVGPF Police Training School at Old Montrose on May 15, 2000. Reflecting on the this milestone, the officers have collectively expressed that they have endured, though the journey has been long and hard.
The Commissioner of Police, gazetted officer's corps and the rank and file of the RSVGPF will like to extend congratulations to the officers on their achievement and contribution to ensuring the safety and security of St. Vincent and the Grenadines.(Police Public Relations Department)