Posted on
Vincentian writes book to build self esteem in children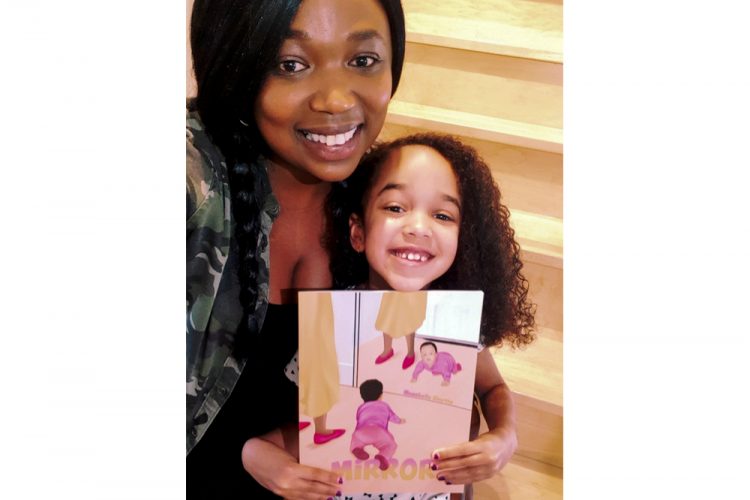 A Vincentian residing in Canada has published "Mirror" – a book that encourages self-discovery and builds self-esteem in children.
Moashella Shortte, born and raised on Bequia, now resides in Montréal, Canada where she fills the roles of mother, educator and now author.
"My first solo book "Mirror" (a children's book) was released [on Monday, May 4] and sold out online everywhere before 8 am. I'm extremely overjoyed and grateful. But I'm also bursting with pride that this little island girl, born and raised is now a sold out author," Shortte told SEARCHLIGHT in an email.
"When my daughter was only months old I took a series of photos of her interacting with her reflection in the mirror.
I was overwhelmed with the joy she expressed for what she was experiencing; She had discovered herself and she was in love! I vowed in that moment to do everything in my power to help her to always look at herself in that way. A few days later 'MIRROR' was born," Shortte said.
Austin Macauley Publishers, on their website said: "For younger children, the book Mirror captures the beautiful, magical moment that is the discovery of self, self in all its splendid wonder. For the older child, Mirror promotes the ever-elusive but all-important self-acceptance, the kind that leads to genuine self-esteem.
And for parents, Mirror reflects the love for their child, a love that is pure and unconditional."
Shortte is the proud mother of four beautiful children. As a mom and educator, she has been creating and sharing children stories for many years.
"Growing up on a tiny Caribbean island where books were at a premium, she treasured each that came her way, and when there was none, she made up stories with inspiration coming from her beautiful home and the colorful characters that were her fellow islanders. The only thing that can top her passion for books and storytelling is her love for children, so there is little wonder that she wants the first story she shares with the world to be a children's book," the Austin Macauley Publishers website site said.