Posted on
SVG Coast Guard benefits from generous donations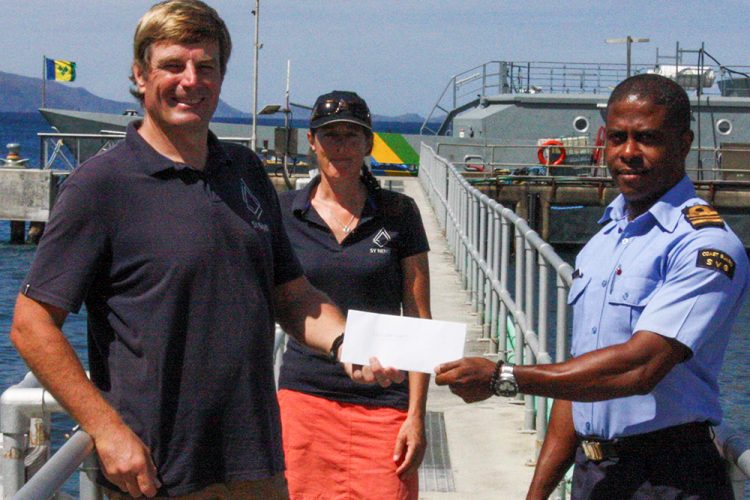 The St Vincent and the Grenadines Coast Guard Service (SVGCG) has been the beneficiary of two donations recently.
On Tuesday, March 31, 2020, the SVG Coast received a tractor from the United States Embassy in Bridgetown, Barbados.
"The tractor will be used to aid in deploying and recovering vessels at the Coast Guard Base – mainly for service maintenance and vessel rotation," Commander of the Coast Guard, Brenton Cain said in a release.
Then on Monday, April 27, 2020, Neil Collinger, Captain of Sailing yacht (S.Y.) "NEMO and crew member, Samantha Barrow, made a donation of USD500.00 towards the Coast Guard Youth Development Summer Programme.
According to Collinger and Barrow, the donation is a show of their gratitude to Lieutenant Commander (Ag), Enos Hamlette and his team of officers from SVG Coast Guard Service for their valiant effort in saving their lives and vessel approximately one month ago in waters of SVG.
According to Collinger, "the vessel was experiencing difficulties with its rudder. It caused it to drift approximately 65 nautical miles off the western coast of St Vincent and the Grenadines." The Coast was contacted for assistance, to which Lieutenant Commander (Ag) Enos Hamlette and his team promptly responded onboard Coast Guard Vessel "Hugh Mulzac" and were able to tow the vessel and its occupants to safety. The rescue operation lasted for over 24 hours, a release from the coast guard said.
Speaking on behalf of the Coast Guard Service, Commander Brenton Cain applauded the donors for their financial contribution towards the department's youth development programme. He gave the assurance that their donation will go a long way in moulding the youths of St Vincent and the Grenadines for "life's high seas".