Posted on
FLOW "Bag ah Money" promotion" draws another $10,000 grand prize winner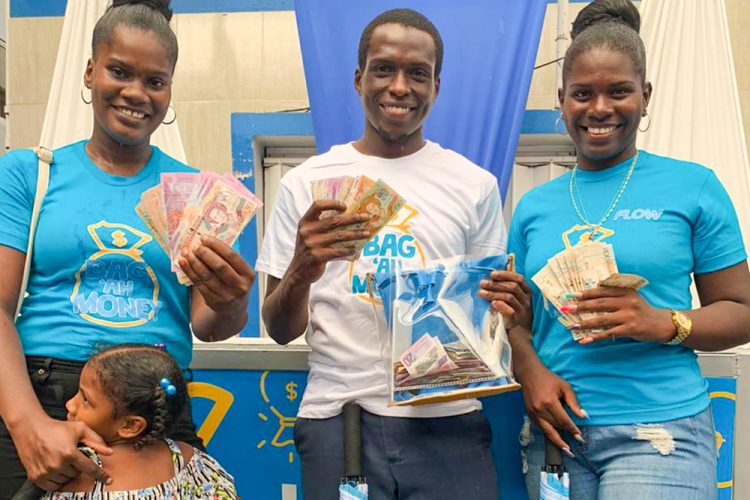 AKIL HOMER must still be counting himself lucky after winning the second grand prize draw of $10,000 in the FLOW "Bag ah Money" promotion held Friday, March 13 on the FLOW Promenade.
Homer competed against Skeetha Ollivierre and Lorice Nero for the top spot in a gameshow styled event. All three contestants were asked to guess a number and who ever got closest were selected in their respective order. Nero had made the closest guess and was rewarded by being the first to select of three envelopes of which she chose number 2, then came Ollivierre with number 3 leaving Homer with envelope number 1.
Upon opening the envelopes, cheers from the crowd erupted as it was revealed envelope number one held the card reading $10,000. Nero and Ollivierre showed no signs of disappointment as they both had won $1,000 each.
Rain threatened the afternoon's proceedings but the three winners were most happy to continue under umbrellas which the telecoms giant had provided. Marketing and Communications Manager Nikala Williams then interviewed the lucky trio.
When asked what her plans were for the $1,000, Ollivierre responded "Well I actually am still a winner and tomorrow is my daughter's 11th birthday and we are going to celebrate it very well."
Nero opined: "It's a good feeling because waking up this morning I wasn't going to get a thousand dollars and Flow gave me one." She further stated, "First of all I will ensure my daughter enjoys her birthday which is on Monday and the rest will go towards savings."
Grand Prize winner Homer appeared visibly shaken as he addressed the audience.
"Words can't even describe," he said when asked how he felt.
"When I got the call, I thought well at least I could win $1,000 dollars I did not expect to win this ($10,000)."
Following the presentation winners were escorted by a team of Guardsman personnel to safely secure their funds offstage. Activities continued on the promenade for an additional hour as Flow provided entertainment, free food and drinks to the audience.