Posted on
VINLEC employees receive training in pole restoration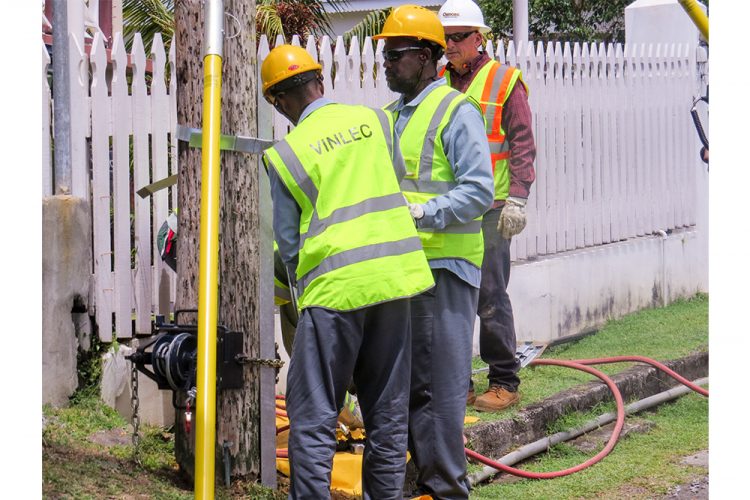 ST VINCENT ELECTRICITY Services Limited (VINLEC) continues work to safeguard the structural reliability and safety of the Transmission and Distribution (T& D) Network. The term transmission and distribution refers to the different stages of carrying electricity over poles and wires from generators to a building.
Supervisors and Lineman assigned to the T& D Department were involved in one week of training which examined pole reinforcement/pole restoration. Transmission and Distribution Engineer (Maintenance and Construction), Mitra Malcolm said that the poles in the T& D network are a large economic investment by VINLEC. He noted that while wooden poles provide VINLEC with a safe, economic and easy means of delivering energy to customers, they eventually deteriorate. Malcolm said VINLEC has developed a strategy for pole restoration that is intended to bring financial benefits to the Company while minimising inconvenience to customers.
He noted that the technology that was explored in this instance is the metal truss pole-restoration system designed to restore poles weakened by decay or other damage. Malcolm said the technique used restores the required strength in the groundline section of a pole, usually for one-third or one-fourth of the cost of pole replacement. He said while this is an innovative idea, it will not be recommended for all decaying poles.
The onsite training was conducted by David Skinner
– Senior Director Product Sales and Keith Fadel of Osmose Utilities Services. According to Skinner, the training provided the necessary tools and experience to empower the participants with the knowledge and general understanding of wood pole decay, inspection and remedial treatments, and pole restoration equipment and procedures.
The training forms part of a Wood Treatment & Restoration project which is intended to employ a process of chemical treatment and other nonchemical methods of pole restoration, to extend the life of all wooden poles on the system. VINLEC has more than 26,000 wooden poles in lengths 35', 45' and 50' on its T& D network.
In July 2018, employees were engaged in a similar training programme which looked at pole wrapping – another technique used to extend the lifecycle of wooden poles. During this phase, seventeen participants from locations across the Company were engaged in classroom sessions and a number of field visits to neighbouring communities. The training took place from March 2 to 6.