Posted on
Caribbean Feminine Care Line comes to St. Vincent and the Grenadines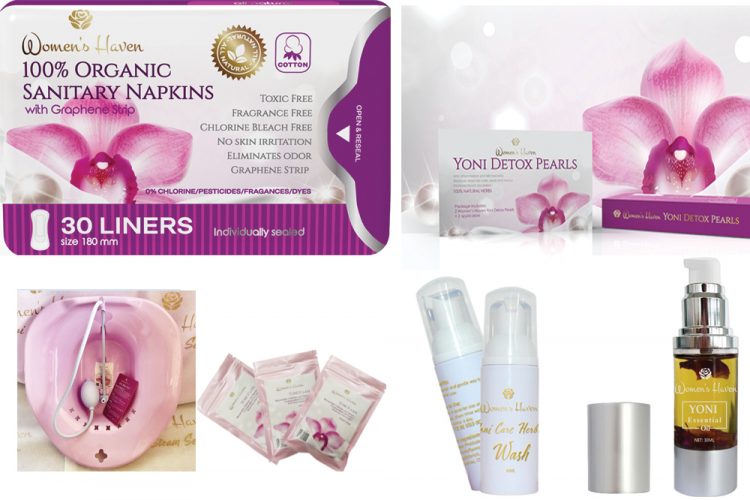 Women have to face many personal hygiene issues even after the world has developed so much. These issues are very stressing and demand our immediate attention. Some of them are-
The duties and taxes that are imposed on feminine sanitary products make them unaffordable for common women. As a result many times women have no other choice but to use a cloth or to go for cheap and poor-quality sanitary napkins. This causes serious health issues.
Another major issue that concerns women worldwide is the use of unknown fragrance chemicals and pesticide residue in the manufacturing of these products which can disrupt the functioning of reproductive organs in women.
Also, traditional pads use adhesive chemicals in their manufacturing which disrupts the endocrine system that controls sleep, sexual and tissue function and reproductive organs.
In order to make sure that women's health and well-being are secured, Women's Haven has come forward with the range of organic and healthy products.
Unfortunately, women have been suffering from itching, irregular period cycles, heavy bleeding, unpleasant odour, fibroids, endometriosis, PCOS, bacterial vaginosis, etc. for centuries because of using traditional sanitary pads and tampons, which are filled with toxic chemicals like dioxins, and are made up of 90% plastic.
Women's Haven has made its mission to create awareness about the harmful effects of such products amongst women and to offer them an alternative. They have taken a huge step in producing their own Women's Haven branded sanitary napkins and are the first feminine product brand in the Caribbean region, and among very few worldwide, to use the Nobel Prize-winning technology of graphene in their panty liners and pads.
Women's Haven is an all-female owned organization that is driven towards producing chemical-free products that can assist women in maintaining vaginal health. They are here to end the stigma that is associated with discussions about menstruation and healthy vaginas. Because of this inhibition associated with vaginal-issue related talks, many women are forced to endure the pain and suffering during their period. Women are not allowed to talk about it openly and hence lack the proper information and guidance that they are entitled to on this subject. As a result many times women develop deadly diseases like uterine cancer.
Women's Haven makes the effort to educate the world about the vagina, helping them understand that just like any other human part like hands or eyes, it is a part of the human body. It is very sensitive, and requires special care and attention hence making it even more important to talk about it openly and without shame. Talking about it is not sufficient, it is just the first step. What is the second step you ask? Well, the second step is to understand that your vagina is just like any other part of your body, and requires gentleness, care, and organic help. And herein lies the reason that Women's Haven exists and is working hard to create special organic pads that utilize the noble prize-winning technology of Graphene, making them a brand that you can rely upon for your genital well- being.
More About Women's Haven
Women's Haven was established about 2 years ago and has been thriving ever since. The company started in the Cayman Islands in November 2017 with the Founder, Melesia Adderley, and later branched out to The Bahamas in April 2018, with the co-Founder, Meredith Johnson. As of now, they have successfully spread their business to 13 countries – Cayman Islands, The Bahamas, Bermuda, Barbados, Dominica, Guyana, Jamaica, Saint Lucia, Trinidad and Tobago, Turks and Caicos Islands, Saint Vincent and the Grenadines (SVG) and most recently, Grenada and British Virgin Island. They give the credit of their success to the need of such organic liners and pads. Up until now the products that women have been using for their hygiene and well-being were all made from chemicals and had their side-effects. But the line of products that Women's Haven brought to market is all organic and healthy due to which women have been gratefully accepting them with openness and warmth. Women's Haven began in SVG in May 2019 through entrepreneur Nikita John, who became a distributor. So far, hundreds of Vincentians have accepted and joined the movement to an organic alternative in Feminine Hygiene Products and are having an amazing journey.
Women's Haven Liners and Pads with Graphene Strip
The brand-new liners and pads that Women's Haven is introducing in the Caribbean Islands are like a boon to the womankind. The traditional pads that the women here have been using thus far are nothing but recycled garbage that is bleached to appear white in colour! And not just that, but these traditional pads also use chemical adhesives and have pesticide residues in them which can disrupt the reproductive organs in women. So, in order to protect the womankind from these harmful toxic traditional sanitary pads, Women's Haven has launched a 100% organic alternative.
Women's Haven pads are produced from natural products that form several layers like the soft cotton surface, a breathable bottom, a non-toxic adhesive, an air-laid paper, etc. in the sanitary napkins. Moreover, sanitary napkins are also infused with a Nobel winning tech i.e. Graphene strip. Now, graphene is a carbon-based natural element that has the ability to purify water. In pads and liners, these graphene strips help in maintaining circulatory health, cell activity, and metabolic health. It also inhibits the growth of bad bacteria. Other significant benefits that these sanitary napkins offer is that they are toxic-free, they have superior absorbency, they have 3-D leak protection guard, they balance hormones, and they effectively eliminate odour.
Women's Haven has proven itself to be very careful in using materials for making sanitary napkins. Every woman can use these napkins without worrying about her personal hygiene and harming her body. Our personal hygiene depends upon our daily routine too, so do not depend entirely upon sanitary napkins to keep you bacteria-free. Have a healthy lifestyle which includes eating healthy and using organic skin and hair care products.
Women's Haven products are available for delivery by ordering directly from the local Women's Haven Distributor. For more information about the various product offerings, please visit their website at https://womenshaven.com, or via social media (Facebook / Instagram – @thewomenshaven) or the local Women's Haven Distributor can also be contacted by email at [email protected], or by phone at +1 (784) 491-8755. Make the switch to 100% organic feminine care products, your body will thank you!