Posted on
Vincentian recruits sail through Royal Navy training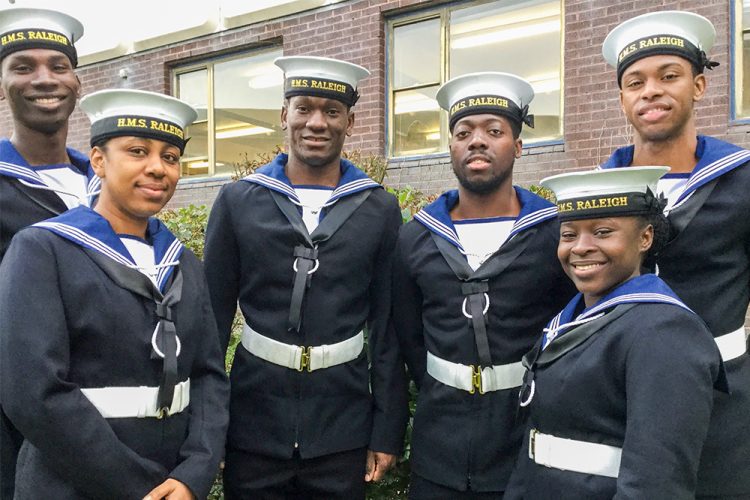 SIX RECRUITS FROM St Vincent and the Grenadines have joined the ranks of the Royal Navy after completing their basic training.
Trainee sailors Husani Porter, Rennis Roberts, Kamol Bess, Kemelius Boyea, Shemesha Johnny and Aaliyah Cambridge joined the Service in November 2019, arriving at the gates of HMS Raleigh, in Cornwall, UK, for their induction training.
A release from the Royal Navy said they have now completed an intensive 10-week course designed to teach them the skills they will rely upon throughout their careers. The course culminates with the passing-out-parade when the successful recruits march out before their families and friends.
Husani, aged 22, said: "I joined the Royal Navy to become a better individual, to travel, and for the benefits of being in the Service."
Rennis, 25 years old, also joined for a stable career. He said: "I wanted a future for myself and my family. The highlights of the course have been learning how to handle a weapon properly, travelling miles over rough terrain and weather on Dartmoor, plus I've liked learning how to handle a disaster relief situation."
Kamal, a former welder who is also 25, said; "I've loved everything covered in the 10 weeks of phase one training."
Former teacher, Kemelius, aged 24, has enjoyed making new friends.
"I've learnt to be more disciplined and to pay attention to detail. Bonding with the other lads is one of my highlights. I'm proud to pass out at HMS Raleigh and my aim is to become the best sailor I can be," he said.
At aged 32, Shemesha is the oldest of the six recruits. She joined the Royal Navy for a career and to travel. Shemesha said: "he best part of training for me was learning how to drive the speedboats."
Aaliyah, aged 22, joined the Royal Navy for a different life and is looking forward to getting to grips with life at sea; she described her training as exceptional.
"Overall it was an amazing 10 weeks of hard work and dedication. I look forward to more as my career progresses,"said Aaliyah.
With the first phase of their training now complete the six recruits will go their separate ways. Rennis and Kamol are heading to HMS Sultan in Hampshire, UK, for their specialist training to become marine engineers.
Husani's next port of call is also in Hampshire. His training, to qualify as a Seaman Specialist, will start at HMS Collingwood before he returns to HMS Raleigh to complete his course.
Kemelius, Shemesha and Aaliyah have chosen to become Logisticians specialising in Catering Services. The next stage of their training will take place at the Defence College of Logistics, Policing and Administration, located in Worthy Down, UK.
The Royal Navy's Initial Naval Training course is underpinned by nine Core Maritime Skills that are the foundations of naval life and underpin operational effectiveness. Recruits are taught the basics of Naval discipline and customs. They learn about navigation and are given the chance to take the helm of their own medium sized inflatable boat during a waterborne orienteering exercise. Royal Navy personnel can also be called upon to play a vital role in land-based operations, so recruits undergo training in basic combat skills which includes survival in the field.
Fitness is a key component of the training, and is delivered using a disciplined method of military fitness, which focuses on developing co-ordination and individual physical strength and endurance. As the course progresses, the recruits take part in three extended exercises to test their skills and understanding of the principles they have been taught.