Posted on
Ballantyne wins first $10,000 in Flow Bag Ah Money promotion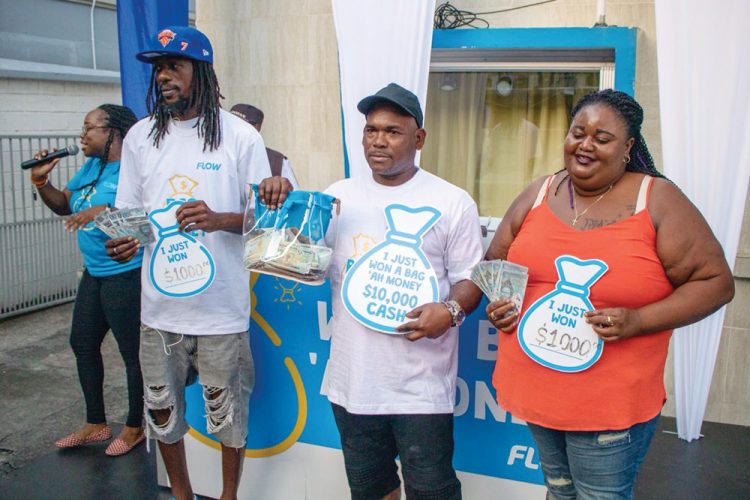 Halifax street Kingstown was filled with music generated from the FLOW promenade as the telecommunications provider hosted its first grand prize draw in their promotion dubbed "Bag ah Money" last Friday 31st January at 4pm. There was a brief delay as all awaited the arrival of Nashon James who was travelling from Union Island.
The event began at 4.45 pm with the unmistakable voice of Flow's Marketing & Communications Manager, Nikala Williams, opening the show. She exuberantly welcomed all in attendance to witness a lucky person being rewarded $10,000 on the very stage which she stood. Several pedestrians who were clearly making their way home, stood still to witness what was unfolding. Williams added that as an extra measure of safety, the winners, and all present on stage, were being provided licensed and bonded protection from Guardsman SVG Ltd.
The opinions grew louder and so did the gathering in front the stage, with several persons crossing the street to get a closer view. Williams announced that all three finalists present were going to be winners as the runners-up will each receive EC$1000.00.
As they were introduced Nashon James, Elliot Ballantyne and Denlica Byron all nervously made their way to the platform.
"Me know he," sentiments echoed from the crowd as they took their places on the compact platform, with cheers erupting, as there were clearly supporters that accompanied the finalists.
Williams was then joined by Flow co-workers and an auditor to complete the draw. In a game show styled approach, three young ladies ,each holding a single envelope on stage, faced the crowd as the finalist randomly chose who would be the first to select a numbered envelope.  Members from the audience loudly shouted which envelop they thought contained the lucky $10,000. After each person had chosen their envelope, the finalists then opened their envelopes following a countdown by the audience. Shouts of exhilaration and excitement erupted from the crowd when the winner of the $10,000 – Elliot Ballantyne – was revealed.
Ballantyne appeared to be the calmest of all persons present, or ,maybe it was just the shock, but the excitement quickly shifted as $10,000 cash was brought out by the FLOW team and the visible counting-off of the funds began. While Ballantyne awaited his funds, the Flow team counted out $1000 cash to each runner up.
Ballantyne was escorted inside by armed guards to safely complete the deposit process. As the event came to an end, Williams reminded the audience that the promotion was ongoing and lasts through to March 13, 2020, with lots more money to be won each week, plus another 'Bag Ah Money'- $10,000 cash to be given away.