Posted on
RSVGPF Youth Club gets monetary donation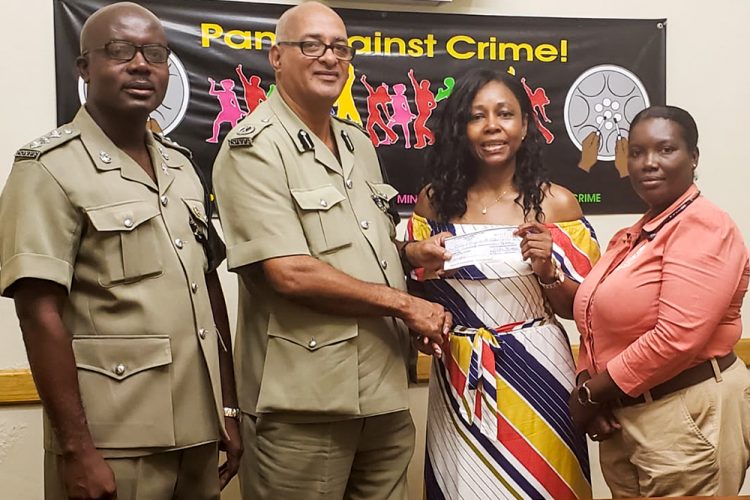 The Youth Clubs of the Royal St Vincent and the Grenadines Police Force (RSVGPF) have received a donation from the St Vincent and the Grenadines Association of OTTAWA (SVGAOttawa), Canada.
On December 9, Maxine Grant, President of the Association, handed over a cheque in the sum of CAD$500 to Assistant Commissioner of Police Richard Browne at the Police Conference Room, Police Headquarters.
While making brief remarks during the handing over, Grant said that she was happy to be in SVG to make the donation to the Police Youth Clubs (PYC). She stated that giving back to the Police Youth Clubs fulfils their organisation's mission statement, which is to promote and support organizations in SVG.
Grant disclosed that the donation to the Police Youth Clubs is not the first her organisation has made in SVG. According to her, the Guadeloupe Home for Girls, the Milton Cato Memorial Hospital (MCMH) and the Salvation Army have all been recipients of donations in recent years.
She further stated that on October 26, 2019 they held several fundraising drives in Canada in the form of a dinner, raffle and silent actions; and SVGOttawa donated the proceeds from these activities to various social causes such as the Police Youth Clubs in SVG, Ottawa Express Food Club in Canada and the Bahamas Relief Effort.
Grant also handed over 17 T-shirts for the committee members of the Police Cooperative Credit Union -Standard Caribbean Shipping Inc Police Carolling Contest on behalf of VINCY UNITY PICNIC.
In expressing his gratitude and appreciation having received the cheque and T-Shirts, Assistant Commissioner of Police, Richard Browne thanked Grant and the SVG Association of OTTAWA and Vincy Unity Picnic for their generous contributions to the Police Youth Clubs and the Police Carolling Contest Committee and assured her that the donations will be used for the purpose for which they were contributed.