Posted on
SVGCA donates BBQ grills to Grammar School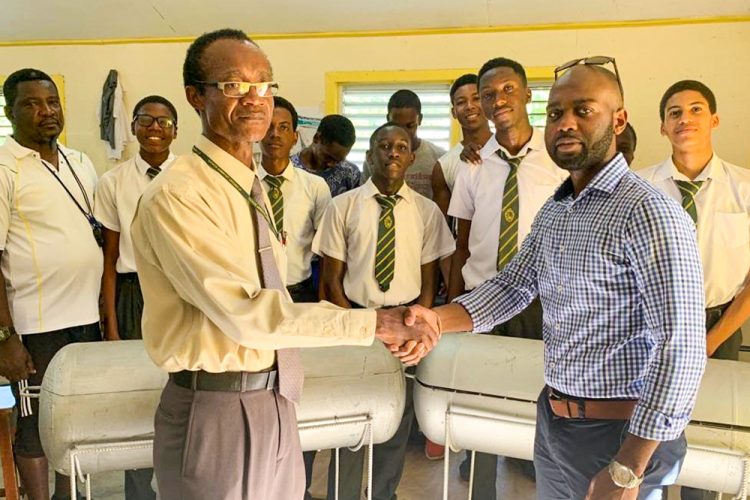 Two barbecue grills have been donated to the St Vincent Grammar School (SVGS) by the SVG Cricket Association (SVGCA). The grills will facilitate fundraising activities throughout the school year, which are expected to generate funds for the school's sports and cultural programs.
On Monday, November 18, 2019, President of SVGCA, Dr Kishore Shallow made the official handover of the grills to Headmaster Alfred John, in the presence of students and staff of the school.
The headmaster, staff and students expressed their gratitude and in response, Shallow expressed delight at being able to make such a contribution to their social programs.
"Grammar School over the years has had a solid sporting program that has positively impacted scores of boys and men in our society, so on behalf of the cricket association, I am delighted that we can afford opportunities to continue to strengthen such programs," said Shallow, who is also Vice President of Cricket West Indies, and was recently appointed a national sporting ambassador.
The SVGS has produced many sporting influences, including current West Indies player, Sunil Ambris; former West Indies player and current selector, Miles Bascombe; and in recent times, national swimmers, Shane Cadogan and Nikolas Sylvester. International artistes Kevin Lyttle and Gamal 'Skinny Fabulous' Doyle are also notable alumni.
In October 2019, SVGCA Inc. awarded four young sports persons for their outstanding achievements and representation of the country.
The national cricket body also sponsored five cricketers at the beginning of the school term in September.