Posted on
Serenity Dive holds PADI instructors development course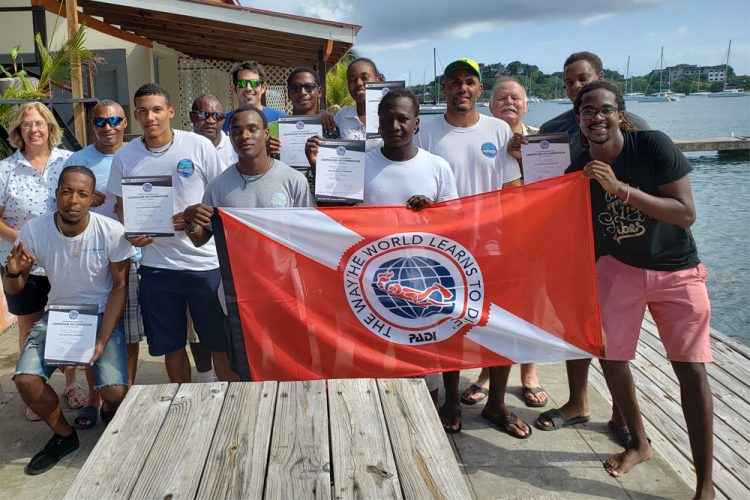 Serenity Dive held the first ever Professional Association of Diving Instructors (PADI) instructors development course in St Vincent and the Grenadines (SVG) this month.
The developmental section of the course took place from October 5 to October 13, while the examination took place over a two-day period on October 14 and 15.
According to a release from Serenity Dive, local dive masters that work along with various dive shops cannot afford to take part in this programme and programmes are usually held at 5-star resorts in Grenada or St Lucia, which are the closest ones to St Vincent.
The release also noted that the cost for accommodation, airfare and the course itself makes it quite difficult for locals to afford.
Because of this, most dive shops are forced to hire expats during the high season, which tends to incur additional expenses for residency permits, work permits, accommodation and salary.
The course, which took place in St Vincent, was sponsored through the Ralph Erickson Educational Foundation, a US-based non-profit organisation that assists dive masters who cannot afford to enter the PADI IDC programme.
"This programme was attended by 10 candidates. Nine from the various dive centres throughout St Vincent and the Grenadines and one from St Lucia. We had candidates from Serenity Dive, Dive St Vincent, Dive Bequia, Bequia Dive Adventures, Grenadine Dive and Jacques Costeau Dive Center in PSV. In all, the course was successful, with six participants becoming fully qualified PADI Instructors and three becoming PADI Assistant Instructors," the release said.
Serenity Dive intends to execute several fundraising activities to donate back to the foundation, in order to continue hosting the programme in SVG annually.
And the company thanks all the institutions that made the first ever local programme possible.
These include the Mariners Hotel, for accommodating course directors, Sunset Shores, for use of its pool and conference room, SVG Red Cross, for the use of mannequins and AED and Point Bay Resort, for the use of its apartment for classroom presentations.