Posted on
Flow opens Customer Experience Center at Arnos Vale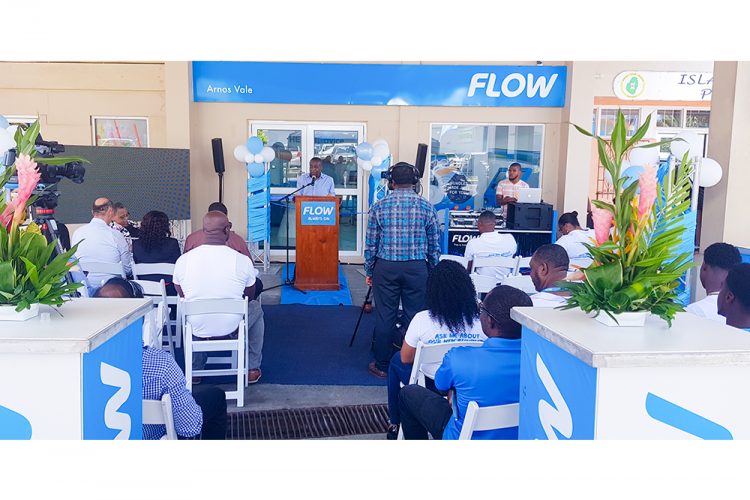 Flow St Vincent has answered customers' calls for better service with the opening of its new Customer Experience Center at Arnos Vale.
The new Flow Experience Center will also offer all of Flow's Retail Products and Services and is located in the heart of the Arnos Vale community, which has come to be known as 'the new city' of St Vincent. Customers will find the easily accessible location, in the Highway Trading building, extremely convenient for their day to day service transactions, a release from Flow said.
The formal opening ceremony kicked off with the sweet, steel pan rendition of the national anthem by Flow ambassador and world-class musician Rodney Small. Several of Flow's senior managers gave remarks including Country Manager, Wayne Hull, who further delighted the audience with the surprise announcement of the launch of Flow's new fixed Bundles. Hull explained to the excited crowd that "our customers can now enjoy even more value and savings by signing onto a bundle which offers Fixed line, TV and Internet. For the first time, all three of these services can now be on only one bill from as low as $225 per month."
At the end of his address, Hull made a special presentation to one of the longest standing fixed line customers in the Arnos Vale area, Mrs Jacobs, who has had her fixed line since 1979. She will also receive a complimentary Flow All In bundle FREE for 1 year.
There were also remarks from stakeholders and industry partners including Tony Regisford – Executive Director SVG Chamber of Industry & Commerce who congratulated Flow on another hallmark accomplishment. Apollo Knights – Secretary/Director of the National Telecommunications and Regulatory Commission (NTRC) gave the feature address.
Following the official blessing of the store by Rev. Adolph Davis, long-standing Flow customer Mrs Dennie assisted Flow Country Manager Wayne Hull to officially cut the ribbon and open the Flow Experience Center.
In true Flow fashion, activities continued throughout the day, with refreshments for customers and chances for customers signing up for the new value bundles to win FREE Groceries. Promotions will continue at Flow's new store for the next four weeks.