Posted on
Centre of TS Karen moving through the Grenadines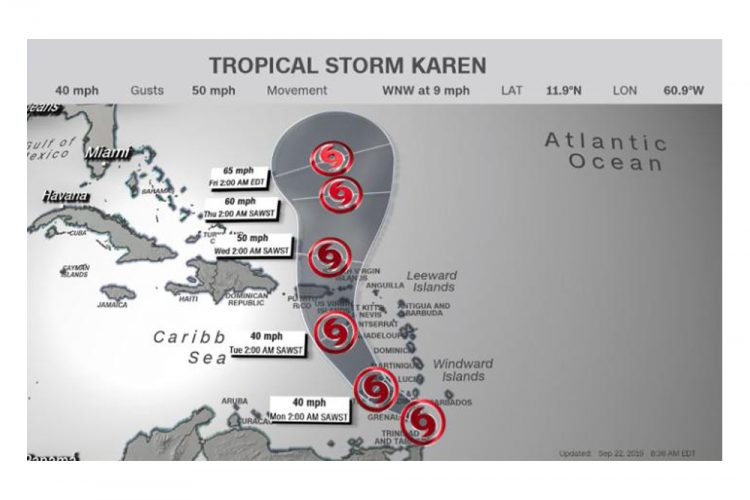 A Tropical Storm Warning remains in effect for St. Vincent and the Grenadines.
Advisory # 3 on Tropical Storm Karen issued at midday on Sunday, September 22, 2019 said the centre of Karen is moving through the Grenadines, bringing gusty winds.
At 11:00 a.m. Tropical Storm "Karen" was centered near 12.5 North 61.7 West or about 65 miles (105 km) south-southwest of mainland Saint Vincent. Maximum sustained winds are near 40 mph (65km/h), with higher gusts.
The system is moving towards the west-northwest at 13 mph (20 km/h) and the minimum central pressure is 1006mb (29.71 inches). Brisk surface winds of 25 to 30 kt (45 to 55km/h) with gusts to storm force are likely over some sections of St. Vincent and the Grenadines as the system continues to track west-northwestwards into the Caribbean Sea.
Tropical-storm-force winds extend outward up to 90 miles (145 km) mainly to the north and north east of the center of Karen.
Meanwhile, pockets of moderate to heavy showers are anticipated with rainfall accumulations of 100 to 150mm (4 to 6 inches) and isolated higher amounts are possible. Thus, a Flash-Flood Watch remains in replace at this time. Persons living in flood-prone areas and areas prone to land-slippage should take all necessary precautions.
Deteriorating sea-conditions are also expected with east-southeasterly to southerly swells of 3.0 to 4.0m (10 to 13ft) likely. Thus, High-Surf Advisory and Small-Craft Warning also remains in until 6:00 a.m Monday 23rd September, 2019…. A High-Surf Advisory is issued when breaking wave action poses a threat to life and property within the surf zone…
A Small-Craft Warning means in this case, that wind-speeds of 25 to 30 kt (45 to 55km/h) and /or seas greater than 3m (10ft) will be affecting the marine area.
The next advisory will be issued at 2 pm today
Prepared by Mr. Billy Jeffers