Posted on
North Leeward Children benefit from back to school treat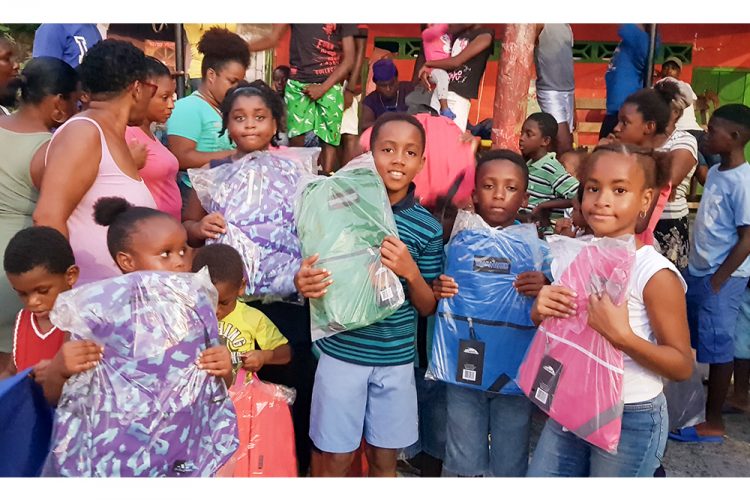 Over 380 children from across North Leeward returned to school on Monday with additional school supplies including brand new back packs and stationary thanks to the efforts of several youth groups across the constituency and the support of the business community.
The initiative took the form of a back to school fair held at the Petit Bordel Playing Field on Saturday, August 24, 2019 and continued with a distribution drive in some communities last weekend.
According to Senator Carlos James, one of the organisers behind the initiative, the event was an amazing show of solidarity from the business community in partnership with youth-based organisations within North Leeward.
"I want to personally thank all the donors who made this event a success they are our developmental partners and the back to school initiative could not have been a success without them," Senator James said.
James noted that despite our many successes we still have parents who often struggle to get their children off to school in some rural areas.
"We have seen many successes in terms of education and we have certainly widened the social safety net to support underprivileged families, but there are families in some rural areas who still struggle to send their children off to school. These children were able to benefit from the support of some amazing people, the youth volunteers who assisted in the distribution and the business community and I want to personally thank them for their support," Senator James emphasised.
According to James, plans are already in place to make the initiative an annual calendar event for North Leeward children. James is encouraging the business community to continue supporting the initiative, which has touched the lives of nearly 400 families across the rural constituency.
"We certainly can do more in terms of our social corporate responsibility and I am quite pleased with the support we received towards our back to school drive in North Leeward," James said.