Posted on
United Nations (UN) World Day against Trafficking in Persons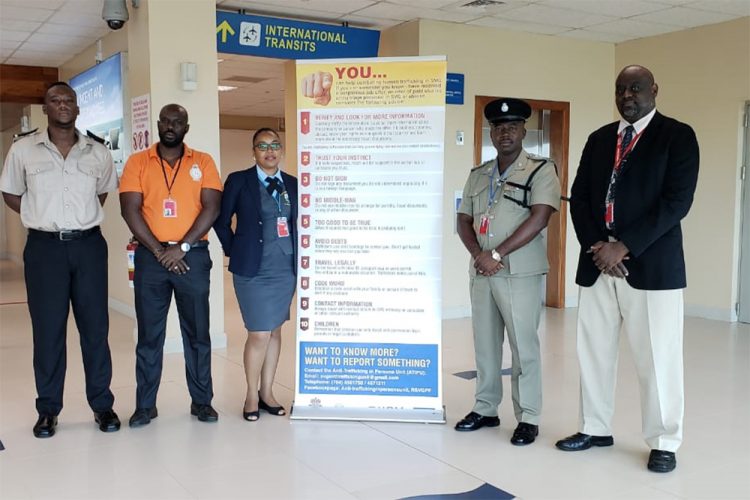 Today, July 30 is "World Day against Trafficking in Persons" which was so designated by the United Nations (UN) General Assembly on December 18, 2013 to raise awareness of the situation of victims of human trafficking and for the promotion and protection of human rights.
Since that time, countries all over the globe including St Vincent and the Grenadines have been observing this important day to highlight the plight of victims, a release from the Police Public Relations and Complaints Department said.
The theme for UN World Day against TIP 2019 is "Human Trafficking: call your government to action".
In commemorating this year's event, the Anti-Trafficking in Persons Unit (ATIPU) in the Royal St. Vincent and the Grenadines Police Force (RSVGPF) under the auspices of the National Task Force against Trafficking in Persons (NTFaTIP), collaborated with the management and staff of the Argyle International Airport Inc. (AIA) on a special project which included placements of standing banners in the Arrival and Departure lounges, stickers at the counters and a promotional 30-second video.
According to head of the ATIPU, Assistant Superintendent of Police, Junior Simmons – the initiative is geared towards public education and raising awareness about human trafficking to all arriving, departing and transiting passengers, as well as members of the general public.
ASP Simmons stated "The ATIPU is very pleased to be have partnered with the AIA in sensitizing the traveling and general public on issues relating to human trafficking, which is also known as modern day slavery". Simmons went on to say that according to the International Labour Organization (ILO), 40.3 million people were victims of modern day slavery in 2016. This reality according to the ATIPU head means that the global community must do more to combat human trafficking in all of its forms.
ASP Simmons commends the commitment of the Government of St. Vincent and the Grenadines and that of Commissioner of Police John and the constabulary in treating with human trafficking. He also wishes to applaud members of the public for their support and co-operation. The ATIPU Head specially congratulates Police Constable 204 Garet Dopwell for his unwavering dedication in executing the work of the ATIPU over the years.
Hadley Bourne, AIA's CEO states that the AIA is pleased to join forces with the Anti-Trafficking in Persons Unit (ATIPU) in educating passengers about human trafficking, and wants to ensure that every person who uses the facility, does so in a safe space.