Posted on
BEQUIA EASTER REGATTA 2017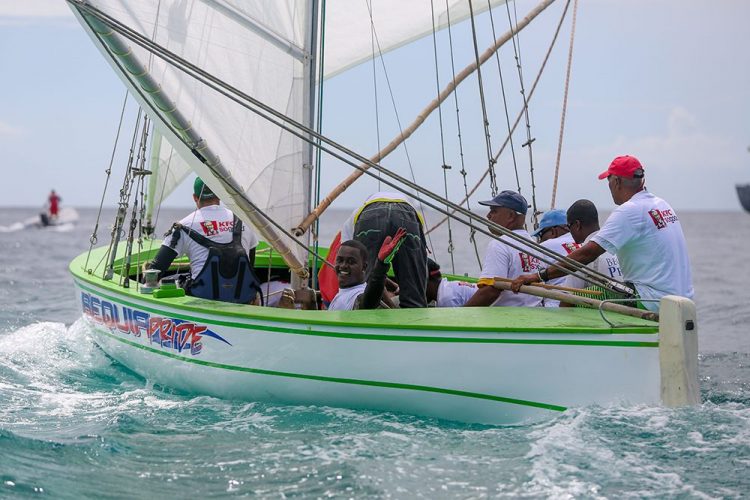 With Registration taking place on Wednesday 12th and 13th April, a total of 51 boats were signed up for the four days of racing -27 yachts, 21 Heritage boats(double enders) and 3 Youth Optimist boats. Yachts flew the flags of France, St Lucia, Grenada, Barbados, Trinidad & Tobago, St Vincent & The Grenadines, Ireland, Great Britain, United States and Canada. Two yachts of note (first time in Bequia) BRIZO a Cal 39 from Chicago Ill. and CELTIC SPIRIT a 72' ketch from Ireland, arrived here without crew. BRIZO got an entire crew of locals from Paget Farm, Bequia and placed a respectable 3rd overall. CELTIC SPIRIT enlisted a crew of 12 people from Bequia who all claimed it to be their most fun regatta in years. One of the crew actually signed on for the continuing voyage to Spain.
Bequia Heritage Division hosted competitors from Carriacou, Mayreau and Canouan in the weekend of racing and fun. The three Optimist boats were new to Bequia Easter Regatta as Bequia Sailing Club has just added a Youth Division and plan to invite competition from Saint Vincent & The Grenadines to compete here next year.
The weather for Regatta was sunny & warm with light winds.
Yachts – Divided into 4 classes- Racing (CSA Certified), Cruising 1(CSA Certified), Cruising 2 (Simplified CSA rating) and J-24 (One Design). The seven J-24 entries included boats from Trinidad, St. Lucia, Granada, Barbados and St Vincent & the Grenadines competing in six races for the J-24 Southern Caribbean Championship Title for 2017 which was won by Ambushe of Trinidad & Tobago .
Yacht Division races were officiated by Principal Race Officer James Benoit from Grenada who again did an outstanding providing guidance and support for the Regatta Racing Team, a job as he has done so expertly for the past 18 years. Our appreciation to the Judges of the Regatta, Harry & Melinda Keith from Florida who provided great feedback and support, Geoffrey Pidduck from Antigua and Timer Randy Mainwaring from Grenada.
Heritage boats were divided into 7 classes by length ranging from 12 ' to 28'
2017 EASTER REGATTA 2017 WINNERS
YACHT DIVISION
Cruising 1 1st Place – Nirvana Sloop
2nd Place – Chanticleer Beneteau Oceanis 43
3rd Place – True Form Shields
Cruising 2 1st Place – Sail La Vie Burk 32
2nd Place – Papagayo Choate 40
3rd Place – Brizo Cal 39
Racing 1st Place – Category 5 Hobie 33 Modified
2nd Place – Regis Guillemot Melges 24
3rd Place – Gaya Xtreme
Single Handed CSA – Hallucine Pogo 40
Non CSA Brizo Cal 39
J-24 1st Place – Ambushe
2nd Place – Diehard
3rd Place – Jabal
Optimist Youth Sailors !st Place – Orion Ollivierre
2nd Place – Kelroy Phillips
3rd Place – Jossal Bynoe
4th Place – Jaheim Ollivierre
HERITAGE DIVISION
Class 1 1st Place – Knowledge
2nd Place – O Connie
Class 2 1st Place Never D
2nd Place D Shark
3rd Place Slip Away
Class 4 1st Place Ark Royal
2nd Place Y Knot
3rd Place Lightning
Class 5 1st Place Kiss
2nd Place Camille
3rd Place Shanna Lou
Class 6 1st Place Eclipse
Class 7 1st Place Blackberry
2nd Place Confusion
3rd Place Slip Away
In closing the Bequia Sailing sends our heartfelt thanks to our Major sponsors Mount Gay, Flow, Hairoun, SVG Tourism Authority, Action Bequia and to those small businesses & individual donors who contributed, without whose support this Regatta would not have taken place. Thanks also to the many volunteers who stepped up to the plate and made it happen. Look for our 2018 Easter Regatta notices Mar. 28th to Apr.2nd later this year.