Posted on
T&T sends relief supplies & personnel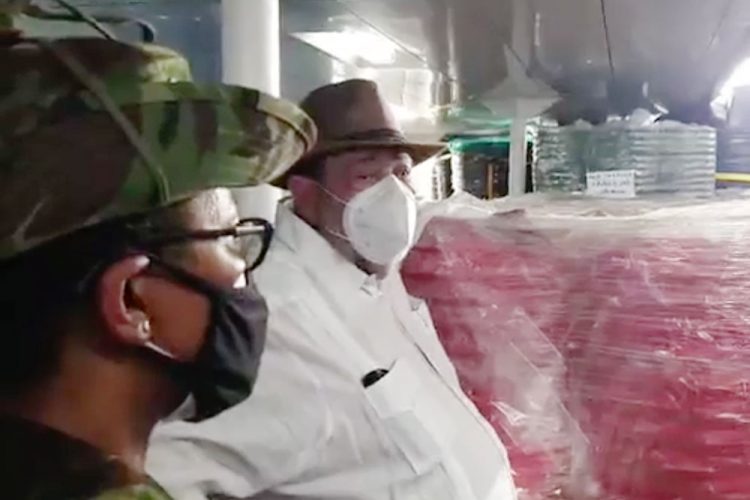 Tons of supplies, including water, can foods and aerated beverages have arrived in St. Vincent and the Grenadines (SVG) compliments the government of Trinidad and Tobago (T& T).
The duty free imports arrived here on Tuesday, April13 onboard the ferry Galleons Passage, and was accompanied by a diverse team of persons including soldiers, logisticians, engineers and medical personnel.
Lieutenant Colonel Jozette Mc Clean who heads the contingent, was welcomed at the port in Kingstown by Prime Minister Dr. Ralph Gonsalves and several other high ranking officials.
"We are here to support the people of St. Vincent and the Grenadines; we will be here to provide support," Lieutenant Colonel Mc Clean told reporters on the wharf where the ferry docked.
The military officer said their intent is to provide assistance and liaise with organizations to determine where best their support is needed.
Lieutenant Colonel Mc Clean also noted that a second vessel, a coast guard boat with personnel, brings their contingent to 50, and they will be here for two weeks in the first instance.
She said the coast guard vessel is providing support to their contingent so that additional stress is not put on SVG. The supplies that were brought in by the Galleons Passage was donated by various organizations and private citizens in Trinidad and Tobago.
"We tried to focus on what was identified as priority items so we have food items, water, canned food, sanitary supplies, tents and three water tucks with water," Lieutenant Colonel Mc Clean revealed.
There is also personal protective equipment (PPE) and medical supplies included in the shipment.
"It feels really really good. Trinidad is happy to be able to support the effort in any way we can and as CARICOM, we are one, we are brothers and sisters and we are really happy to be here," she said.
The vessel also brought immigration officers and will be taking T& T nationals who are in SVG, and who have applied for exemptions and want to return to their homeland, back to The two island republic.
The vessel's manifest reads, among other things: hand sanitizer, goggles, water tanks, reusable face masks, clothing, toiletries, bleach, soap, milk, disposable cutlery, snacks and folding cots.