Posted on
It's past time for you to leave red zone – PM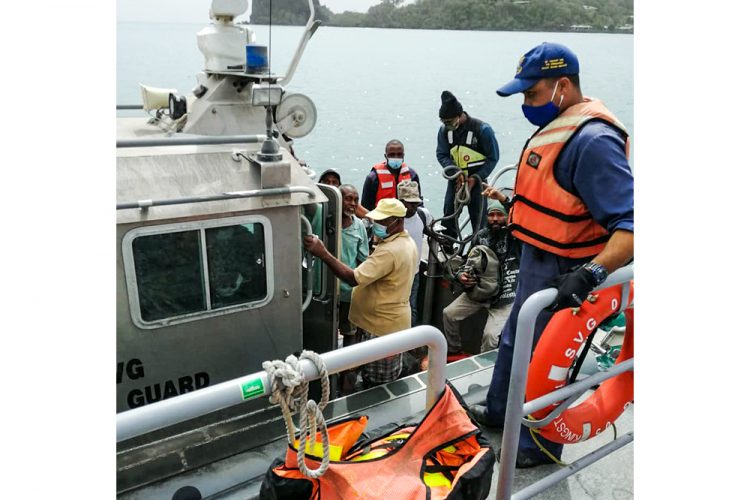 MORE THAN 100 persons were evacuated from northern parts of St Vincent in the last three days due to the efforts of the SVG Coastguard since the beginning of La Soufriére's explosive eruptions last Friday.
But even now, there may still be persons in Owia, Sandy Bay and Fancy, and Prime Minister Ralph Gonsalves is pleading with those persons to get out.
He revealed that the SVG coast guard evacuated 13 persons from Fancy, Owia, Point and Sandy Bay on Sunday, April 11; 72 persons were evacuated on April 10; and 18 persons were evacuated on April 9.
"The problem up in Sandy Bay, there's no jetty in Sandy Bay, so you have to go up to Owia, but the problem at Owia, the sea is rough and we are putting the lives of the Coastguard officers at risk, and we are creating problems for the engines… because of the ash," Gonsalves said during his daily update on NBC radio Monday, April 12.
Despite these challenges, the prime minister said if persons are still there, he will give instructions to the Coastguard to execute another evacuation mission.
He also encouraged persons still in those areas of the red zone, to reach out whether via radio or through family members, so that they can be evacuated.
"It is overtime for you to leave. It is highly dangerous to your health and your life. Of course, we can't go and hold people and arrest them and bring them…but this is where they are putting other persons at risk so it's a challenging thing," Gonsalves said. A post on the official Facebook page of The National Emergency Management Organisation (NEMO), which was published yesterday, April 12 said "absolutely no one is allowed in the Red Zone without the permission of the Police".
Another post published yesterday said ; "anyone caught in the Red Zone without the permission of the Police will be immediately arrested and prosecuted to the full extent of the law. This will apply whether you are a usual resident of the area or not".