Posted on
Opposition leader blasts gov't on vaccine incentive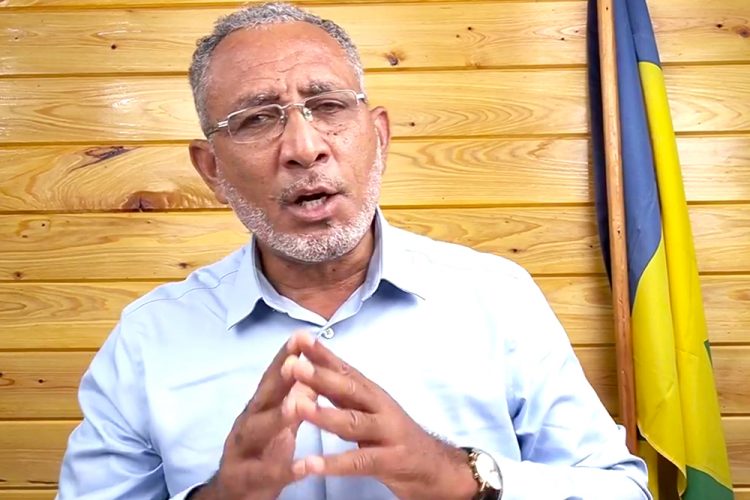 THIS COUNTRY'S government has come under heavy criticism from the Opposition for offering incentives to persons to be vaccinated which it said, seem more political than based on public health concerns.
Opposition leader, Dr Godwin Friday, was speaking at a virtual press conference on Wednesday, March 24 when he shared his party's views on the government's efforts to increase COVID19 vaccination numbers.
"With that said, no one should threaten you about vaccination. I have been consistent on this. I have told you I have done it. I said from the very beginning I would do so because I believe it is safe and necessary for us to get back to our lives. But nobody should threaten anybody and make them feel that somehow, they are, their fears are in many cases, or in some cases, not worth exploring," Friday said this week.
The opposition leader was making a direct reference to Prime Minister Dr Ralph Gonsalves' statement on National Heroes Day when he said a new Statutory Rules and Order -SR& O-was being considered for local omnibus operators to carry more passengers if they get vaccinated.
Currently, van drivers are allowed to transport no more than 50 per cent of the passengers they are licensed to carry.
The prime minister's announcement was met with much opposition by members of the public.
Gonsalves defended his statement, noting that it was not a mandate but rather an incentive for omnibus operators. The SR& O has not yet been published.
"…The offer – or threat, if you want to put it that way – by the government to van drivers that if they take the vaccine, they can somehow increase the number of passengers they can carry, it does not appear based on public health requirements. What sense does this make to offer an incentive if it's not bound or grounded in the science as to what is safe in the vans or not?" Friday said about the matter on Wednesday.
The opposition leader levelled further criticism at Gonsalves for telling the public that if 80 per cent of the population is vaccinated, it would be possible to host Vincy Mas this year.
Friday said the prime minister's declaration "is sending the wrong message" and "trivializing the important decision people have to make to become vaccinated.
Further that "it also fails to recognize the effort and planning it takes to hold carnival, and is does not appreciate the difficulties and feelings of those people directly involved, the various components of Carnival; to suggest that somehow the government could just make a decision one way or another based on whether young people become vaccinated or not.
"To reduce it simply as an enticement to the young people to take this vaccination process, is not sending correct or consistent messages," he charged.
The opposition leader, who received his first dose of the Covishield (Indian) AstraZeneca vaccine, along with his wife and son on February 14, has been an advocate for persons being vaccinated in St Vincent and the Grenadines.
He has expressed the view that it is one of the scientifically proven ways for the country to return to some semblance of normalcy and to get on the path of rebuilding the economy.
Friday said however, that in order to do this, people need sound information that takes their concerns and fears into account "and address them maturely and responsibly and bring them along to make that decision for themselves sooner rather than later". He said "the government must take this mission seriously and stop sending mixed messages about what needs to be done and why it needs to be done with respect to vaccination".