Posted on
Grave side vigilantes found guilty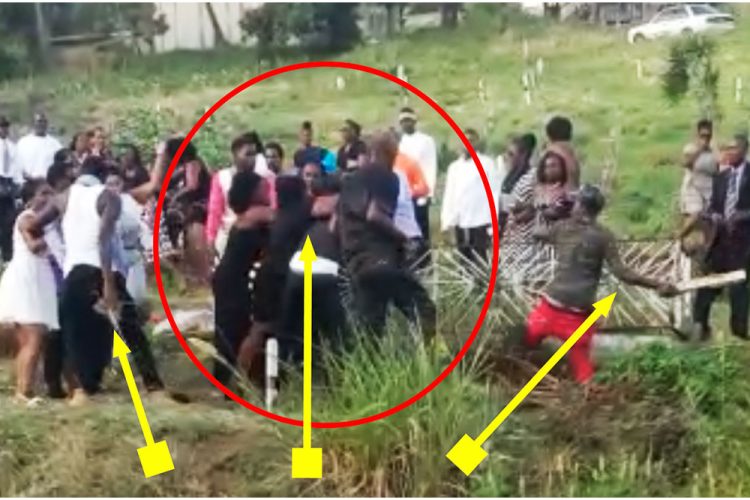 Four men have been convicted for disturbing the funeral of their beloved relative and beating her significant other with objects, and are expected to be sentenced today, March 19.  
 In the Chauncey cemetery on the evening of May 27, 2018, Jetonnia Thomas was being laid to rest, when at the moment of crowning, a commotion began with her grave at the center. 
 A group of men who had found out who was the partner of their deceased relative, namely Paul Stephens, attacked him with board, stone and a block, in an attack signalled by a howling sound made by one of the men.  
 These men may have strongly believed rumours circulating at the time, that their beloved relative had been abused by Stephens, and that this abuse is what had caused her death. A post mortem conducted revealed that the young woman died of heart failure.   
 Following the funeral, Jeronza Thomas, Kazim 'Meds' Alexander, Junior 'Trunkie' Charles, and Dane Daniel were charged with disturbing a religious ceremony, possession of offensive weapons (stone, block, board) and the wounding of Stephens.  
 After steeping in the events of the trial, Senior Magistrate Rickie Burnett delivered his decision on Tuesday, March 16, convicting the men on all charges. 
 It seems that the evidence of a police officer from the area who had witnessed the event played a significant role. Further, Stephens' identification evidence was accepted.  
The magistrate also examined the law on offensive weapons, disturbance of an assembly lawfully engaged in a religious ceremony, and the evidence of the Pastor, and drew conclusions there.  
 "This incident was ironically motivated out of love, strange enough that we find ourselves in the criminal court because of love," said counsel Ronald Marks mitigating for his clients Alexander and Charles on Tuesday.  
 It came out in the trial that Jetonnia was well loved, and this is not disputed, he noted. Two of the men described her during the trial as being the best.  
 In order to establish motive, the prosecution, Corporal Corlene Samuel, questioned the men on whether they knew of the rumour surrounding Jetonnia's death. 
 Marks said that in establishing that they did know, the prosecution also established provocation which would "make a normal person act outside of their character and that, in these circumstances, albeit not a defense, it is a mitigating circumstance." 
 Defendant Jeronza who is the brother of Jetonnia, also made certain comments during the trial revealing that his sister supposedly had a wound on her hand from trying to punch out the window. He also alleged that he received reports that Stephens abused his sister. 
 "This was not some random act that was done to some stranger, this was a wrongful dispensation of community justice as they saw it fit," the lawyer said.  
 While that sort of behaviour should never be encouraged, "…we would be lying to ourselves if we don't say that we understand, at least some part of our human soul, understands what a normal person goes through when you hear that an innocent person that you love was beaten, abused, and eventually led to her death," he said.
 Their state of mind was that "…they believed that this man was literally getting away with murder" .  
The incident occurred at what he submitted was probably the most emotional time in the funeral. The men had convinced themselves that the legal system had failed them, "…and they were the only ones who could administer justice in the circumstances." 
 Marks asked the court to enter into their feelings as much as possible when delivering a sentence.  
Alexander, who is in his early twenties, and Charles, 31, are the main/sole breadwinners for their homes.
 
Counsel for Daniel, Dr Linton Lewis, joined with Marks in what he said. He also noted that his client, 39 years old, was very forthcoming in saying what happened. He asked the court to consider that he just happened to be there at the time of the emotional outburst. He submitted that the evidence does not reflect that his client actually dealt blows to anyone.
 
 Both lawyers asked that a prison sentence not be considered in this unique case.  
Esward Charles had pleaded guilty in June 2018 to the disturbance of an assembly engaged in a religious ceremony, but he was not sentenced until this Tuesday.  
 The 32-year-old had no previous convictions and is employed as a handy man.  
  He pleaded guilty at the first opportunity and, considering all circumstances, was placed on a $1500 bond for one year.
If he breaches the peace, and he cannot pay the sum, he will go to prison for three months.