Posted on
RS Academy officially opens its physical doors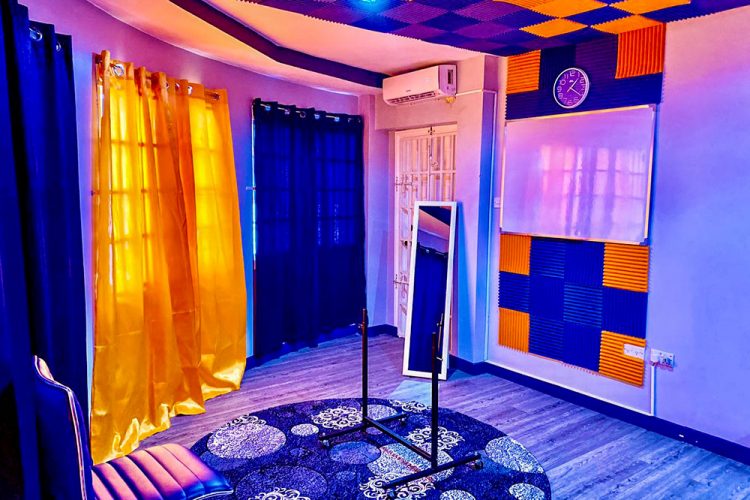 Seasoned entertainers, persons looking to nurture their musical or creative side or anyone looking to have an entertainment idea brought to life now have a professional entity willing to help with the processes.

This as Edna Manley College of the Visual and Performing Arts trained musician Rodney Small has opened the doors of his RS Academy.
Known as RS Academy on Instagram and RS Productions on Facebook, the institution which physically opened its doors on Monday but has been operating online for two weeks, is located in Kingstown on McCoy Street in the Brewster Building.
"About 11 years ago, while teaching for the pan side Sion Hill Euphonium, I realized I had a knack for teaching and passing on knowledge," Small said of one of his inspirations to open the academy which offers one-on-one sessions to students.
RS Academy employs five persons; Azaria Gibson and Brian Maloney are involved with voice training while steel pan tutoring is done by Small, Shane Wynne and Sean Jack. Akisha Henry works in administration at the after-school entity which opens its doors from 2 pm daily.
Training courses include the use of music notation software, steel pan tutoring for all ages, voice training, and jazz keyboard skills.
Services include script writing for live musical productions, stage management, consultations, performance concepts and talent management.
Small said the academy has got off to a wonderful start and they are currently booked out with spaces becoming available in the next three months. The youngest student is three years old, learning steel pan while the oldest person is 46, nurturing guitar skills and the steel pan.
Small, an accomplished pan player with international and regional recognition in the industry, says his set-up is aimed at tackling the deficiencies in the local creative industry by offering professional training.
"When I came back from school in Jamaica, I observed a lot of things and I was looking at how I could be a part of the solution and the idea for the academy came to me, because school in Jamaica also helped nourish by knack for passing on and loving to pass on knowledge," Small said.
Encouraging persons to embark on the learning journey with him, Small says the RS Academy is a one-on-one results driven entity that shows progress through honours recitals.
The purpose of an honours recital is to provide incentive and recognition to talented, motivated students who can prepare for auditions superbly and are confident enough to perform their pieces in public in a formal setting.
"So at the end of three months, parents and students will see results and have a better understanding of their chosen field, not just practically, but theoretically and historically," Small explained.
He noted also that after one's course is over, the academy can help with marketing and branding while he is working out certification linked with regional entities like the University of Trinidad and Tobago (UTT) and the Edna Manley College of the Visual and Performing Arts in Jamaica.
"This is basically based on results and I am going to be pushing, as a big priority, the history of the arts so basically, it is not only about learning music it is about learning about the origins of what you are pursuing.
"Also, we will look into managing you and putting you out there," said Small who is also encouraging other tutors to put Vincentian history at the heart of teaching.
"Here, we want to push and encourage and show persons how good it is to create a balance in academics and the arts and how by doing this it brings holistic gains to students," the Sion Hill resident said.
Small also notes that the institution was made possible through support from family, close friends, National Properties Ltd, Tus-t Water, Digicel's D' music app, several persons in the Diaspora and the government's Promoting Youth Micro Enterprises (PRYME) grant which financed the venture.