Posted on
Not enough being done to educate public about COVID-19 vaccination – Dr Friday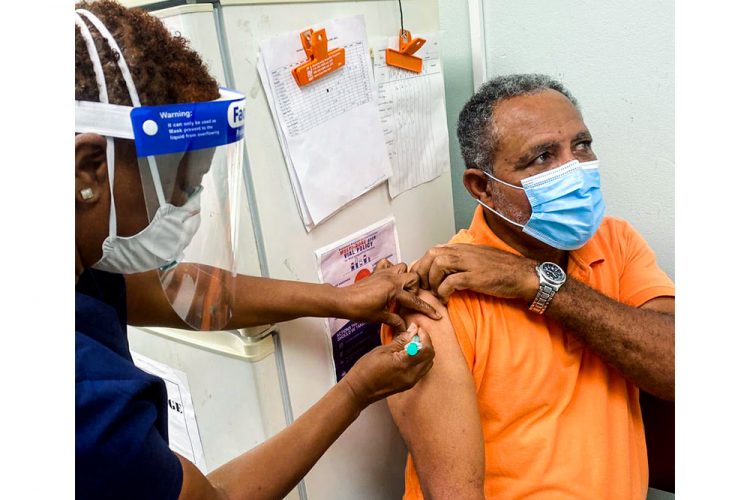 Though local authorities have launched a full-scale vaccination programme, this country's opposition leader, Dr Godwin Friday believes that more needs to be done in the form of public education.
Friday was speaking on the New Times radio programme on Monday, when he said that there is a plethora of mis-information being circulated with regard to COVID-19 and vaccination against the contagious virus.
He also noted that there is a lot of information regarding the two, which makes it difficult for persons to sift through to find the right information.
"This government has not been very helpful in that respect either because they, from the very top, there's been a scepticism about the seriousness of the problem, about how you address it and how you deal with it, even with the rollout of the vaccine, so when they go and talk to people and say now people should do it, naturally, people are sceptical as well and they don't want to listen to the information there," the opposition leader said.
The parliamentarian said this is why he was partly inclined as a public figure who is trusted by most people in the country, to speak publicly on the topic and share about his decision to be vaccinated.
Friday, along with his wife and son were among several people in Bequia who received some of the first doses of the Covishield (Indian) AstraZeneca vaccine on February 14.
"The idea is to let people know that this is a very important measure for us to get back to normal and they would have to then take these steps to inform themselves better, to understand, get to that level of comfort, not just here but internationally as well," he said.
The opposition leader is confident that more and more people are grasping this idea and will be vaccinated in the coming weeks and months as they see the impact of the vaccination programmes, not only in SVG but in other countries as well.
But he still believes that the government needs to do more and has a responsibility to provide information, so that there is not much speculation about the process.
Friday said he was happy to see that local health authorities have begun moving into communities to make the vaccine more readily available to citizens.
But he said that "again, they have not been up to the task in informing the public properly about the benefits, the side effects if there are any and the reason why the mass vaccination is a policy that the government has engaged upon and one that is intended to benefit the people of this country and all over the world".
More than 6000 people have taken the vaccine locally so far. The vaccination programme continues at all clinics and healthcare centres across the country.