Posted on
MOA launches its Food Market Stabilisation programme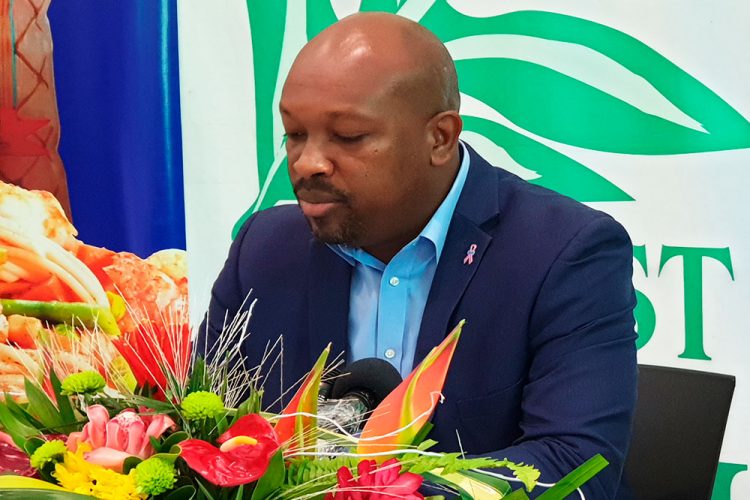 The Ministry of Agriculture officially launched its Food Market Stabilisation programme yesterday.
The programme is part of the agriculture ministry's thrust to support local farmers through the provision of a market.
Agriculture minister, Saboto Caesar noted that the idea came about because of the reduction in markets owing to the COVID-19 pandemic.
He also referenced the Love Box programme which was rolled out by government in 2020 to purchase commodities from farmers.
"In 2021, what we have recognised is that there are several traders who have markets regionally, internationally and also some local markets, who have expressed a keen interest in purchasing commodities, utilising these facilities," Caesar said. "Therefore, from Monday March 1, an administrative structure will be placed at these facilities to capture the information from the farmers, as to the commodities which are available for sale."
The minister noted that the initiative has already begun at the Lauders Agro-processing Centre, with at least three containers being exported to the United States already.
Caesar said his ministry hopes to see farmers utilising the centres and registering their interest to sell commodities to traders.
He also assured that the government will also play an important role, through the ministry of agriculture, to ensure that the interest among farmers is registered.
"I wish to encourage all the traders participating in this programme all the very best and to thank you sincerely for the excellent job that you continue to do in assisting in the marketing of commodities from St Vincent and the Grenadines," the agriculture minister said.
All crops and livestock farmers wishing to obtain markets for their produce are asked to register their interest at the following locations: Langley Park Palletization Centre, La Croix Palletization Centre, Lauders Agro-processing Centre, Rillan Hill Community Centre and Rose Bank Community Centre.
The programme officially started yesterday and opening hours are Mondays to Fridays from 9 am to 3 pm.