Posted on
New volcano monitoring equipment being installed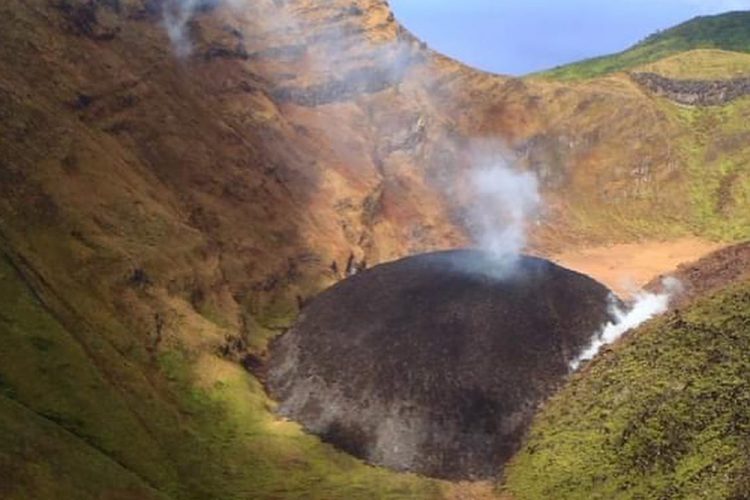 A monitoring station was this week installed on the Leeward side of St Vincent as efforts continue to monitor the ongoing effusive eruptions at La Soufriere.
And Prime Minister Dr Ralph Gonsalves is pleading with Vincentians to not vandalize the valuable and costly equipment.
"I have to get BRAGSA to go and do a fencing because the last time we had a station there, it was vandalised. Not the only one," Gonsalves said on Wednesday morning during his weekly appearance on NBC radio. "I'm begging, pleading with people, just leave the stations
alone…these things cost a lot of money, but more than the money, it's the value…providing us with relevant information."
The station was installed on Tuesday approximately four miles up from Richmond by the team from the University of the West Indies Seismic Research Centre (UWI-SRC), which is led by geologist, Professor Dr Richard Robertson.
The team arrived here on New Year's Eve and on Tuesday, completed a reconnaissance mission, having hiked safely to the top of La Soufriere to investigate the growing satellite dome.
According to Robertson, the new dome's rate of growth has slowed in recent days.
And this is one of the important factors being monitored through the installation of equipment.
"We're keeping a very close eye on the volcano and…it's necessary for several reasons," the geologist said on Wednesday evening during the Round Table Talk programme on VC3.
With the installation of the monitoring equipment, he said the team would be in a more comfortable position by the middle of next week as it relates to monitoring the ongoing activity.
He explained that the team was interested in the rate at which the second dome was growing because there's a certain amount of space in the crater that has to be filled before the growth potentially spills out of the confines of the crater.
"We want to see if it's going to spill over, because as it grows, it could potentially spill over and if it spills over, some of the same material that breaks off, they could go down the mountain side and cause harm down the valleys that it's spilling into," Robertson said.
The geologist also said continued monitoring is important to see whether the volcano will move from an effusive eruption – slowly oozing magma, to an explosive eruption, which is more violent and hazardous.
Additional staff from the UWI-SRC is expected to arrive in SVG sometime soon.