Posted on
'It was only a matter of time' – new senator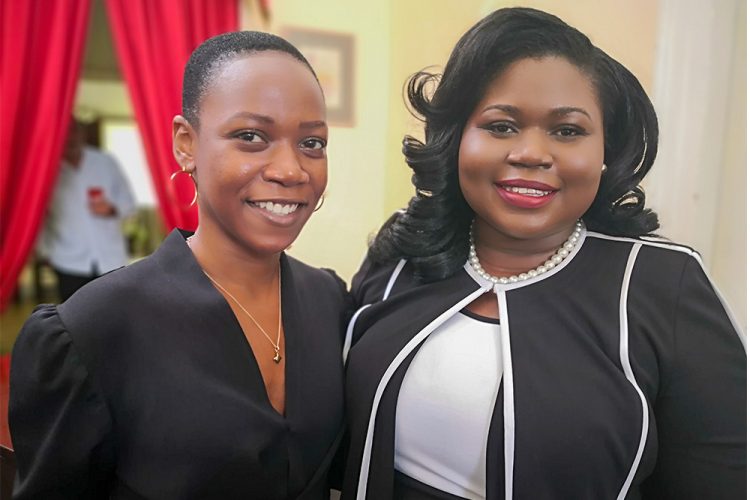 Senators, Ashelle Morgan and Keisal Peters have publicly declared their aspirations to become involved in active politics in St Vincent and the Grenadines.
The two government senators spoke openly about their plans for their communities on the 'Issues at Hand' radio programme on Sunday, December 13, should they be tapped to contest in future General Elections.
The two lawyers were officially sworn in as parliamentarians in November. This is the first time both women, who are in their 30s, will serve in the House of Assembly.
Peters, who is also Minister of State in the ministry of Foreign Affairs, said she is ready and willing to answer in the affirmative, should she be called to represent a constituency in the next elections scheduled for 2025.
"Constituents of West Kingstown, where I belong, have already started claiming me as their representative. Also, because of where I live, I am on the borderline of West Kingstown and South Leeward. The river separates us. Also, persons in South Leeward are claiming me as their next candidate," the senator said on WE FM on Sunday.
The lawyer said that for her, it has always been a matter of when she would become involved in politics.
Peters believes this is the opportune time to "get my feet wet and see what it is like".
While she intends to work with everyone, the aspiring politician sees herself getting involved in activities specifically focused at engaging young people, particularly young women.
"…We live in a world where young people are distracted by many things and most things that they are distracted by are not good things…I observe a lot of things in my constituency and in many other constituencies and as I said, I have a few ideas but those will be rolled out in time if I am permitted to do it," she said.
Like Peters, Ashelle Morgan also has a vision for the development of her community.
This vision involves working predominantly with youth, young women and single mothers in a mentorship capacity.
"Right now, I am living at Diamond, which borders Brighton and I have identified a few projects that I would like to get into," she said. "I think that there is a lot that could be done to enrich the community in terms of sports and culture, job creation, poverty reduction, these kinds of things and I would love the opportunity to execute and roll out some of these initiatives within my community."
Morgan did not pinpoint a specific constituency as it relates to her potential representation in future General Elections.
Instead, she said that she is willing to serve, wherever she is called upon to do so.
"I don't have a particular preference. I love people. I want to help people. Wherever I have the opportunity to serve, there is where I will be serving," Morgan, who is the Deputy Speaker of the House said.
Should they be tapped for future General Elections, it is likely that both senators will contest on a Unity Labour Party ticket.
Both ladies expressed their preference for the governing party, citing their appreciation for its policies and people-centred approach.