Posted on
It was the goodness of God that saw me through – DeFreitas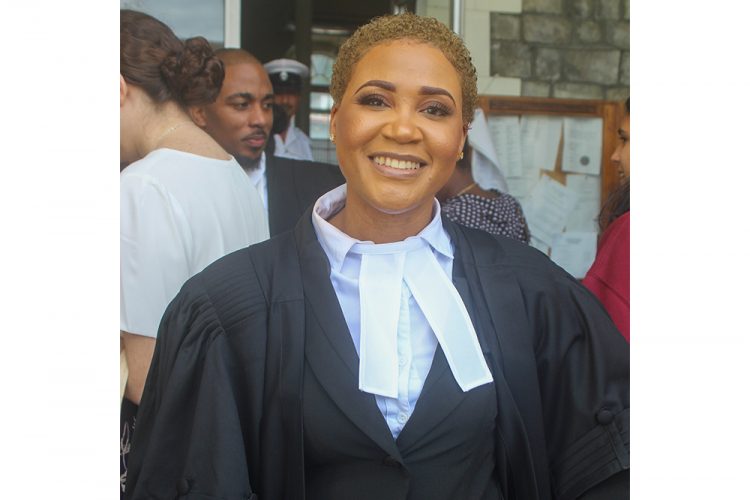 New Barrister and Solicitor Amanda De Freitas is putting it down to God's goodness that she was able to complete law school and be called to the Bar despite breakdowns, robberies and financial troubles.
As at Friday, December 4, the legal body in St Vincent and the Grenadines has added five to its ranks for practice in the state.
At the High Court, Justice Brian Cottle presided over the applications for their acceptance to the Bar, starting with De Freitas. Counsel Paula David moved the call for De Freitas to be admitted, confirming that she was a fit and proper person to be called, and this was seconded by counsel Stephen Huggins.
De Freitas delivered her maiden speech after being 'robed' by her seniors, and began with assurance of her understanding that as legal practitioners they are "charged daily with the duty of maintaining the sanctity of the legal profession."
She noted "I pledge to be unwavering and uncompromising in upholding the values and integrity of this noble profession and to set an example to those who follow."
Her journey began with her being the self-professed "prodigal daughter" of law, who, after completing her undergraduate degree in 2014, decided that she would not go to law school to complete her Legal Education Certificate as expected. "But true to how the story of the prodigal child is told, the wayward daughter has returned and the legal profession has welcomed me with open arms," she stated.
Centre in De Freitas' speech, as He is centre to her journey: was God.
She revealed that her biggest hurdle was securing finances for law school. She applied for a national student loan, which was denied. Then, when she applied to another financial institution, approval of the loan was delayed because of arduous conditions.
"In faith, I left for Jamaica, the loan having not yet been approved and not having the money to pay for my tuition," she recalled.
"In hindsight I now see how things were working together for good. I stand before you having completed my studies at the Norman Manley law school, student loan free," because of an initiative implemented by the Government in the same year that she decided to go to law school.
"The lesson here is that If God has ordained it, you will receive it," she stated.
In Jamaica, she was robbed twice, but has health and strength, "all material losses have been replaced."
She also withstood the mental breakdowns, workload of law school, two mock trials, legal aid, mandatory class attendance, court appearances, small claims court appearances and in particular five 24-hour online exams to come out on the Principal's Honour Roll for the class of 2020.
De Freitas thanked her support system, naming her parents, grandmothers, aunts and friends for their invaluable help.
Towards the end of her speech, she commented, "Many people always comment that "St Vincent have so many lawyers" but let me remind us all that not every lawyer is a good lawyer and that is up to each one of us to set ourselves apart."