Posted on
Alexander promises to employ discipline, commitment throughout her legal career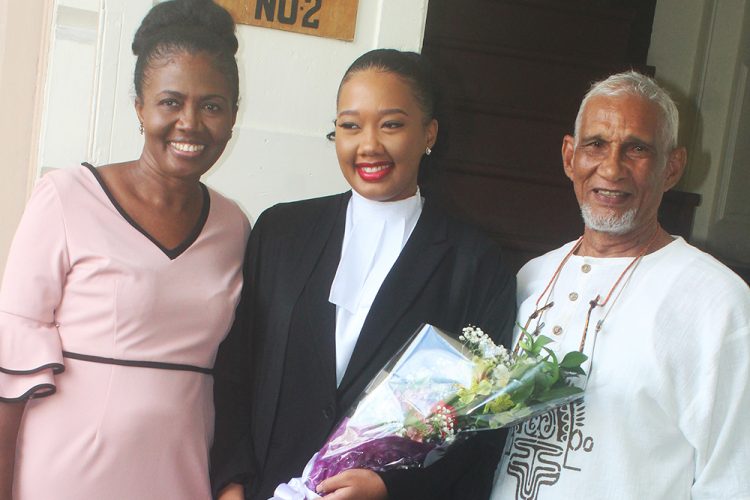 After working hard to see her law studies to the end, barrister-at-law and solicitor Chelsea Alexander promises to employ the same discipline and commitment to excellence cultivated during this time, throughout her career.
At the High Court last Friday, December 4, friends and relatives of five new attorneys-at-law filled the courtroom, to witness the culmination of their loved ones' legal studies journeys, in their being called to practice at the Bar of St Vincent and the Grenadines.
Alexander's application to be admitted to practice was first supported by counsel Zhinga Horne-Edwards, and seconded by counsel Jadric Cummings.
They attested that the young woman was equal to the task, having completed her Bachelor of Laws degree at the University of West Indies (UWI), Cave Hill campus, and acquiring her Legal Education Certificate (LEC) from the Hugh Wooding Law School in Trinidad.
Having interned at Horne-Edwards' chambers since 2017, the senior lawyer assured that Alexander had the skills and knowledge to become a formidable advocate.
The new lawyer addressed the court for the first time, introducing herself, and first noting that God had once again delivered one of His promises to her, "the promise of becoming a lawyer."
"I thank Him for bringing me this far and I will continue to trust Him throughout my life as a barrister-at-law and solicitor," she stated.
She paid tribute to two persons who were integral to her journey, that did not live to witness the milestone.
These were her maternal grandfather Robert Christopher Caesar and Godfather Robert Andrew Cummings QC.
In the case of her grandfather, her academics were policed by his frequent reminders, "Study your lesson and don't make no boy fool you." "Those wise words from an old man who knew the value of an education have stuck with me to this day," she stated.
Even before her legal journey began, her "uncle Andrew" predicted that the Law was her calling at a Bar call held when she was just 16 years old.
At the time he told her he was looking forward to her becoming a lawyer, "I remember laughing because I had never expressed an interest in becoming a lawyer. I can still laugh today because he was absolutely right. I was next."
Alexander noted that she was a "reluctant entrant into the legal profession at almost every stage." From the point of CAPE, when she considered dropping the course, and most recently to Law School.
However, she reflected, "I believe my reluctance at every stage was as a result of my realization of just how much the law required of me."
She continued, "She (the Law) is indeed a jealous mistress and I had to cultivate the discipline and commitment to see my studies through to the end."
"This is the same discipline and commitment to excellence which, by God's grace, I intend to employ throughout my career as an attorney-at-law," she concluded.
Finally, the young advocate thanked her parents, Dollis and Bassy Alexander, who "stuck with me through all the highs and lows", her brother Akil, and her close friends, including Jason Ollivierre.