Posted on
Calls by SeaDream paused after Covid outbreak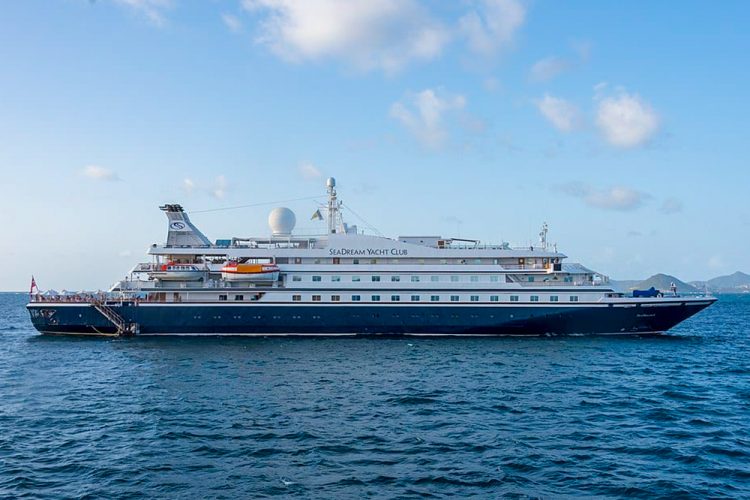 Calls to St Vincent and the Grenadines (SVG) by the first cruise to resume in the Caribbean have been put on pause, following a COVID-19 outbreak on board.
CNN reports that seven passengers aboard the SeaDream I cruise ship have tested positive for COVID-19.
According to CNN's article, which was updated yesterday, November 16, forty-six passengers who tested negative for coronavirus began to disembark the cruise ship to fly home on Saturday, while five of the passengers who tested positive also disembarked for a private flight back to the United States.
The vessel, which is docked in Barbados is said to have been spotted in Vincentian waters last week, off the coast of Mt Wynne, where passengers were allowed to come ashore on a zodiac boat under the watch of the local Coastguard unit.
The agent for the vessel in St Vincent and Canouan is Coreas while the agent in Mayreau and Union Island is Wind and Sea.
A Coreas official told SEARCHLIGHT yesterday that passengers arrived in Barbados with negative COVID-19 test results at least two days before arriving in St Vincent.
The official noted that the protocols for the ship's visit to SVG also included requirements for testing to take place after a 4-day period.
According to the official, provisions were made to ensure passengers on the cruiseship had minimal to no contact with locals, and with seven passengers having tested positive, contact tracing is being carried out.
The protocols involved the vessel only allowing its passengers to come ashore on less frequented bays, which include private Mt Wynne on mainland St Vincent, Campbell beach on Union Island and Saline Bay on Mayreau.
No visits were scheduled for Bequia.
According to the schedule on seadream.com, passengers were expected to embark at Bridgetown, Barbados for week-long sailing with stops in Kingstown; Canouan; Union Island; Tobago Cays; Mayreau and St George's, Grenada, before disembarking at Bridgetown, Barbados.
Last week's visit was the first of what should have been at least 22 calls to SVG by SeaDream I.
CNN noted that SeaDream's ships, which are referred to as superyachts, have 56 staterooms, with a capacity for 112 guests and 95 crew.
And carrying fewer than 250 guests outside of US waters allows SeaDream to operate outside of the US Centre for Disease Control and Prevention's orders around cruising.
There were a total of 53 passengers and 66 crew members on board the SeaDream Yacht Club cruise.
Cruise journalists and bloggers were on board what was also first cruise to return to the Caribbean since the onset of the coronavirus pandemic.
The voyage was intended to demonstrate that increased safety protocols, including regular testing aboard the ship, could allow cruise voyages to take place during the pandemic.
As it relates to SeaDream cruises, the Coreas official told SEARCHLIGHT that the entire season has not been cancelled but rather put on pause until further notice.
The cruise season in SVG usually begins in November and ends in March, with hundreds of calls being made by cruise ships of varying sizes to numerous ports.
The end of the last season was interrupted due to the COVID-19 pandemic.
Glen Beache, the CEO of the St Vincent and the Grenadines Tourism Authority (SVGTA) said that while he does expect some cruise ships to make calls, there have been many cancellations because of the pandemic.
"A lot of the procedures and a lot of aspects of this whole thing do not fall within St Vincent and the Grenadines or within other Caribbean countries," he said.
"CDC has put a lot of restrictions on when these ships can start sailing again. There's now going to be a new administration in the United States. I don't know how they are going to deal with it, so I expect some; in terms of how they will operate, what the protocols will be like, I could not say for sure."
The SVGTA boss said his organization has been speaking with Barbados about the protocols they have implemented, in an effort to create some unison.
He noted however, that the COVID-19 situation is a very fluid one, which means that even if specific protocols are implemented now, it does not mean that they will not change in the future.
Beache said that the SVGTA, SVG Port Authority and the health authorities will have to work closely together on the matter.