Posted on
Soca artistes throw their support behind political parties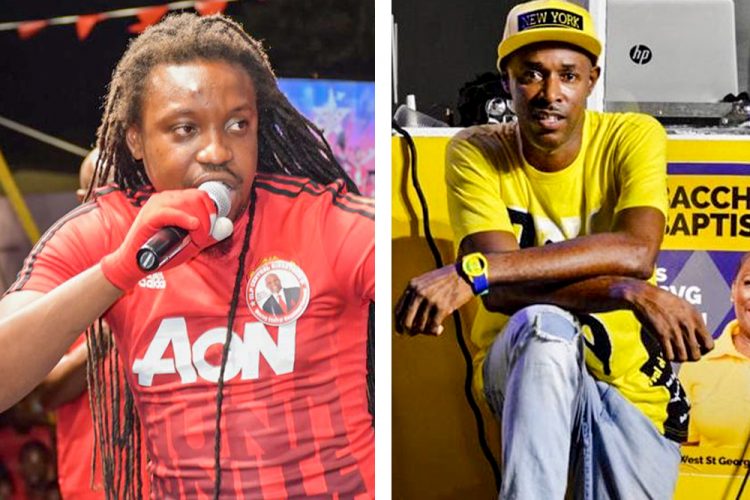 by Lyf Compton
Several popular Soca artistes have thrown their support behind the main political parties, releasing songs geared at attracting, motivating and entertaining voters.
And while some may think that a move of this nature is bad for business, some artistes see it as nothing more than an expression of free speech and the right to support a party of their choice. Others also see it as an opportunity to make money.
Releasing songs this year, among others, are popular Soca and Ragga Soca artistes: Kefter "Flanka" Chapman, Rondy "Luta" McIntosh, Delroy "Fireman" Hooper, Chewalee Johnson, Gamal "Skinny Fabulous" Doyle and Deron "Magikal" Rouse.
Zavique "Caspa G" Morris has also been very vocal on social media. He however said he does not want to comment on his "dub plate" that was done for the New Democratic Party (NDP).
When contacted on Wednesday, Magikal who penned a song, "Gone for sure", in support of the NDP said he too had no comment, in complete contrast to Flanka whose song "Labour Dead" calls for the removal of the Unity Labour Party (ULP).
"I was rallying behind the NDP all the time since they lost in 2001," said Flanka who revealed that the NDP's candidate for South Leeward Nigel "Nature" Stephenson is his first cousin.
Flanka said he was not a voter in 2001 but when the NDP lost power, he decided to support his cousin and the NDP because his family experienced political victimization.
"My mother dead and gone and my father old now so I don't really want to mention what kind of victimization.
"Things used to be hard on the family because of the affiliation to Nature, a lot of backlash and fire start blaze up on them.
"My mother used to not be able to do everything and 'Nature' use to take care of my sister; she use to go Bethel and 'Nature' was a teacher and he stick by family," Flanka told SEARCHLIGHT.
He stressed that he has nothing personal against the ULP although he saw how his family was treated, but sticking with family means he has to support his cousin's party.
"With the ULP, the table lean one side and one set ah people ah survive," Flanka opined.
"Too much youths on the block begging and too much young girls getting used and abused because they can't get job and men abusing them for money.
"It nah look good, who nah beg ah thief because they don't have nothing to do. They go look for job and doors close 'pon them," the Vermont man commented.
He is also of the opinion that many persons are denied jobs and opportunities for betterment because of political affiliation.
"When people go for work and other things, them men do background check; who mother and father be and who party you supporting. So that is the real problem in the country.
"The youth them want something to do," Flanka said while noting that he has a lot of friends who are ULP supporters and he still helps them when they come to him for any form of assistance including money.
"I don't refuse to give anybody nothing if they support Labour. Every man have to decide their own destiny and have the right to support who them want," Flanka noted while adding that he thinks the government will change come Thursday, November 5.
"Once the people go out in their numbers and do the right things, it is possible they (ULP) will move.
"A lot of people have fear talking about thief elections, but I don't buy them story about stealing elections and so on.
"I was not there, I did not see that (stealing) so I can't say so because I only hear the news so I not really running with that," Flanker told SEARCHLIGHT.
Another artiste who commented under the condition of anonymity said some singers see their contribution as a professional exchange; they're paid so they sing.
He said that doing this makes sense, especially in 2020 where COVID-19 forced the cancellation of Vincy Mas and many other events where artistes are paid to perform.
"Supporters of these artistes should not look at it as something to stop supporting them for," he said.
Chewalee Johnson, who sang the song "Lick them with 5" for the ULP explained: "As an entertainer I have a platform and I felt it right that in matters of my country I should speak up. I'm at an age where I'm mature enough to understand what's going on."
He said he believes the ULP is the best party to carry SVG forward based on their track record in development, education and crisis management.
"It was a decision I made and I'm quite comfortable in my decision and conviction. I believe every Vincentian should feel free to express their political beliefs without fear, none whatsoever," he further added while noting his decision had nothing to do with money.
"I work hard and own my own businesses so money was not the motivating factor. I'm a song writer and entertainer and money does not motivate my pen; the passion and love for my country did," he stressed.
Other songs this year include Luta's "Ring the bell", Fireman's "Labour roll call" and Skinny Fabulous's "Rolling with Labour".
Luta and Fireman seemed busy on the campaign trail and had promised a response but were not reachable up to press time.