Posted on
NTRC iCode784 competition finalists named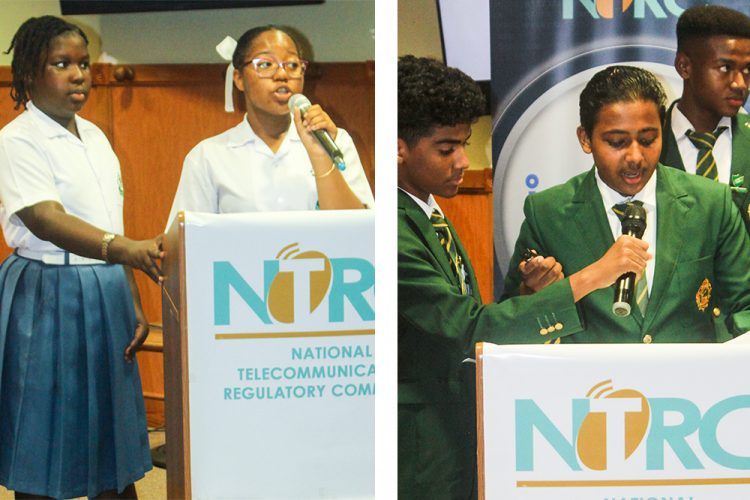 The finalists in the three categories of the 2020 National Telecommunications Regulatory Commission's (NTRC) iCode784 competition have been decided.
Over a three-day period beginning Tuesday October 20, students from throughout the length and breadth of St Vincent and the Grenadines (SVG) as well as adults involved in the Information and Communications Technology (ICT) sector presented ideas and mobile applications to judges.
The preliminaries were held at the National Insurance Services (NIS) conference room on Upper Bay Street.
Participants were asked to come up with ideas and mobile applications aimed at helping to increase productivity in every-day life.
Tuesday October 20 saw presentations in the secondary schools' idea category. Into the finals are: The Rivals – Girls' High School; GSS Gladiator – Georgetown Secondary School; Country Tech – Girls' High School; UISS Geo – Union Island Secondary School; UISS On-point 2.1 – Union Island Secondary School; SciGirls – St Joseph's Convent Kingstown; Project Tech – Girls' High School; UISS BIO – Union Island Secondary School; ASTRA – St. Vincent Grammar School; and INCREDIBLE 3 – Petit Bordel Secondary School.
On Wednesday, October 21 the preliminary round of judging for the secondary mobile application category was held.
Advancing to the final stage are SciGirls – St Joseph's Convent Kingstown; Innovative 4 – Union Island Secondary School; AG Techs (Pharmacy) – Girls' High School; MVAA Coders – Mountain View Adventist Academy;  Zen Tech – Girls' High School; NJN – St Vincent Girls' High School; and Space Tech – Girls' High School.
Thursday October 22 saw the Open Category preliminary judging and seven teams advancing to the finals. They are The Svatores, Charismatechs, Dawati Techs, AgriPlace, Dem Island Boyz, LS and WonderMakers.
Rhea Lewis, the consumer and public relations manager at NTRC said as usual the presentations were impressive.
"…Especially the ones from the students, particularly the mobile applications category. I think they had a lot of good ideas," said Lewis.
She added that this year, 64 teams registered but nine dropped out. The first day saw 22 teams presenting, the second day had 21 teams and the third day had 12 teams.
Ideas and applications provided included set-ups to help persons with prices of produce; providing body measurements for tailors and seamstresses; a shop owners app allowing vendors to enter their wares to be viewed by customers; an app for ordering car parts and an app to help with choosing a career.
Lewis said the winner of the secondary application category will get an all-expense paid trip to Barcelona, Spain.
"In addition to winning up to $5000 in cash prizes, for the first time this year, two persons from the winning Secondary Mobile Application category team, along with their mentor, will be travelling to Barcelona, Spain in March 2021 to attend an event for start-ups hosted by GSMA, called 4YFN (4 Years From Now)," Lewis said.
The 4YFN competition is the world's largest exhibition for the mobile industry where thousands of investors and companies connect and launch new business ventures together.
The winning team in the Secondary Idea category will receive a cash prize of $2000, the second-place team will receive $1000 and the third-place team will receive $800.
In the Secondary Mobile App category, the winning team will receive $4000, the second-place team will receive $2000 and the team that places third will receive $1500.
In the Open Category, the winning team will walk away with a $5000 cash prize while teams that place second and third will receive $2500 and $1500 respectively.
Other cash prizes are expected to be awarded for the school with the most entries and to mentors of teams in the secondary category of competition.
Additional prizes also include smartphones, tablets and cases of soft drinks.
The finals of the iCode784 competition (formerly Ideas and Innovation/iSquared (i2) competition) are scheduled to be held on November 17, 2020 at the Methodist Church Hall in Kingstown.
This year's competition is being executed with the help of National Insurance Services (NIS), SVG Broadcasting Corporation, National Broadcasting Corporation, Xtreme Radio, King Computer Corporation, Tus-T Water, SEARCHLIGHT newspaper, SVG Brewery Ltd, Flow, Digicel, Internet Society St Vincent and the Grenadines, Hot 97.1 FM, Fanfare Events, KDLT Accounting Firm, I-Witness News and Kubiyashi Productions.