Posted on
PM ignores warning to 'keep out of Central Kingstown'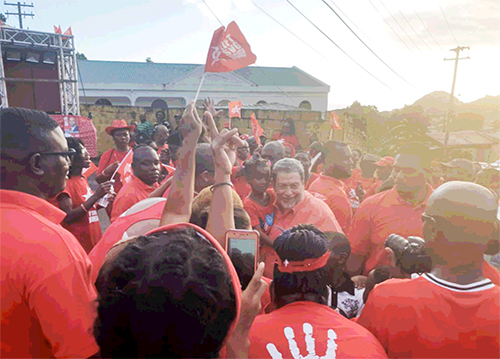 A UNITY LABOUR PARTY (ULP) caravan on Sunday took Prime Minister Ralph Gonsalves throughout Central Kingstown with no interference from supporters of the New Democratic Party (NDP).
This, after Gonsalves said he had filed an informal complaint with head of the St Vincent and the Grenadines Christian Council Monsignor Michael "Father Mike" Stewart in relation to comments made by St Clair 'The Major' Leacock, vice president of the New Democratic Party (NDP).
"I am interested in solving problems," Gonsalves told onlookers while standing in the middle of the road outside the Redemption Sharpes Playing Field on Sunday.
He told the community that he has given his life to St Vincent and the Grenadines (SVG).
"What we bring is labour love," Gonsalves said to loud shouts from supporters dressed in red as he endorsed the ULP's candidate for the Central Kingstown constituency, Dominic Sutherland.
Last Wednesday, the Prime Minister said he was not amused by the fact that Leacock, who has been parliamentary representative for the area for the past 10 years had made certain comments about him entering Central Kingstown.
Speaking at a function at the Coast Guard Base in Calliaqua, Gonsalves said that Leacock commented, "The Major control Central Kingstown and Ralph think he name man he must come up dey."
Gonsalves said the matter was one of security and Leacock should be careful when making certain comments because some people are ignorant and go overboard.
On Sunday, Gonsalves also visited other areas in the constituency — Green Hill, Lodge Village and Paul's Avenue — in defiance of Leacock's comments.
He was greeted by villagers and there were no disturbances. Some NDP supporters watched quietly from the sidelines.
"We have to work hard and smart like how we working all the time," Gonsalves told onlookers during his stop in Paul's Avenue. He said he wants
the next five years to continue the ULP's work.
He also commented on the fact that the ULP has printed "World Boss" on one of its campaign vehicles and some persons have taken offence to this.
The moniker was made famous by Jamaican singer Adijah "Vybz Kartel" Palmer who is currently serving time in a Jamaican prison for murder. The name has however since been adopted by hundreds of persons on social media.
"I say I am the World Boss politically, but they say I am a criminal like Vybz Kartel, and that I does kill people…" Gonsalves said, while noting that Jamaican singers Vybz Kartel and Mavado created Gaza and Gully but that does not exist in SVG.
"We have Colonaire and Paul's Avenue, we don't have Gaza and Gully," Gonsalves said to loud laughter while sitting on a bench.
Speaking on Friday, Leacock, addressing the unofficial complaint to the Christian Council said, "I mek a joke…and he (Ralph) start to cry."
And, speaking at an NDP Rally on Sunday night, Leacock said he heard that Gonsalves was chased out of Central Kingstown during his visit earlier that day.
No such behavior was observed by SEARCHLIGHT's reporter who attended the whistle stop activity.