Posted on
EC$1.6 million vector control program to fight dengue ongoing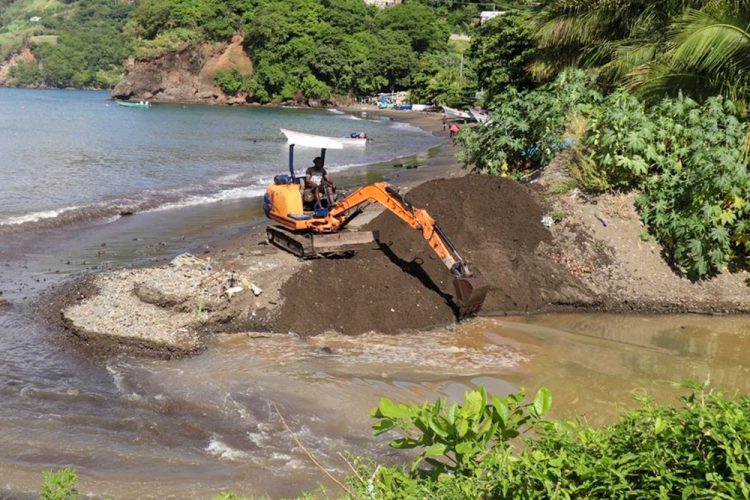 An integrated vector control programme, valued at EC$1.6 million and aimed at fighting the dengue fever outbreak here is being implemented by the Ministry of Health.
The project, which has three components, was announced by Minister of Health Luke Browne during a press briefing on October 2 at the ministry's conference room.
Browne described the project as a comprehensive response plan; EC$1 million for a fogging component, EC$400,000 for a project aimed at cleaning up rivers and streams and EC$200,00 to sensitizing citizens.
He said the EC$1 million component of the project has to do with expanding the fogging that the ministry is doing now.
"So we have two fogging teams right now on two pickups comprising four persons in all and we hope to take that, over a period of time, all the way up to as many as 24 fogging teams operating throughout St Vincent and the Grenadines."
The fogging teams will be deployed to the country's 12 environmental health districts.
In addition, ancillary activities will include the application of larvicide to containers which cannot be overturned or eliminated.
Browne also said there will be greater surveillance at ports of entry and throughout the country.
He noted also that there is a project for the cleaning and clearing of rivers, streams, drainage systems and the general eradication or elimination of mosquito breeding sites.
The minister said the Roads, Bridges and General Services Authority (BRAGSA), has been helping with the clearance of several waterways in Rose Place, Calliaqua, Bellevue and other places.
"One of the things which has been heartening is the way in which we see many volunteer groups and associations come forward and say, and put their hands up and say, I want to see what I could do to help.
"And we are going to do this work for the cleaning and clearance and so on with volunteer organisations, and with persons who are specially recruited for this purpose through the public health department. And they will carry out activities throughout our country.
"We will be guided by the science and we take an evidence-based approach. We know the districts which have been disproportionately affected, for whatever reason and we have to get to the bottom of that and we will put resources in the pipe to be able to get to the bottom of that," Browne said.
The $400,000 component of the project deals with risk communication and health promotion.
"And under this wing, we are hoping to achieve the production and distribution of health education materials on dengue fever, and mosquito breeding sites.
"…you'd have booklets, posters, brochures, pamphlets and other documents. We're also hoping to work on audio and video material with risk communication messages and even to engage or look at the possibility of using electronic billboards. In other words, using every particular possible reference to get the message out there," the minister explained.
"Very importantly we would have here, vector control assistants, persons who are taken on for particular periods especially under this project, that would work with current vector control officers to do several different things, including distribute some of the material that would be produced and carry out house to house inspections, home inspections, and to perform other tasks as they may be assigned through the appropriate channels," said Browne.
"I think that this amounts to a substantive response by the government that treats this matter with the seriousness that it deserves, and which continues the work that we have been doing, since we noticed an uptick in the cases in St Vincent and the Grenadines, to keep this under control," Browne said.