Posted on
WPP donates a variety of orthopedic tools to MCMH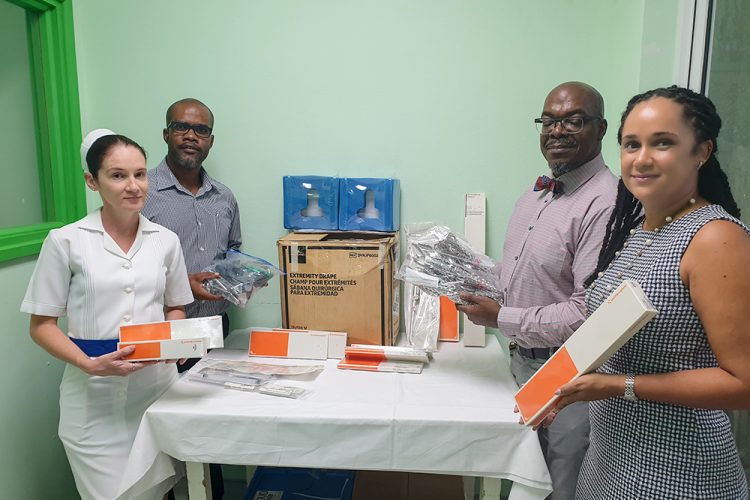 The World Pediatric Project (WPP) is not only about providing life changing human resource to the Milton Cato Memorial Hospital (MCMH) but they also provide equipment needed to provide care.  
On Monday, Executive Director (ED) of the World Pediatric Project for the Eastern Caribbean (WPP) Lauren McIntosh handed over to Medical Director and Orthopedic Surgeon at the MCMH Dr Charles Woods a variety of orthopedic tools valued at approximately US$200,000.  
The tools, according to Dr Woods, are not only for use with children but adults as well, and include a variety of titanium plates, screws, pins and nails used in fixing fractures. 
"I am pleased to receive this tremendous gift from the World Pediatric Project. These are all implants used to fix fractures. It is quite a substantial collection of equipment and they would serve us in many years to come, it is quite a lot," Dr Woods said.   
Commenting, McIntosh said the WPP has a longstanding partnership with the MCMH surgeons and in particular the orthopedic department.  
She said that this year, the WPP has been absent from St Vincent and the Grenadines (SVG) and because of COVID-19, they have been in unable to bring down any surgical teams. 
"The department (at the MCMH) has been very accommodating in helping us and they actually did two surgeries on World Pediatric Project children," McIntosh explained, while noting that the MCMH is making sure the objective of helping children with surgical intervention continues.  
Deputy Hospital Administrator Andrew Williams and staff nurse Sharmine Culzac were on hand to witness the donation.
 
Williams said the MCMH is happy to receive the donation and it will go a long way in helping regional and local children who would do surgeries at the MCMH. 
He said the WPP has become a household name in SVG being the donor of both human resource and supplies, while their surgical interventions save and change lives.