Posted on
NCF operating on a different level now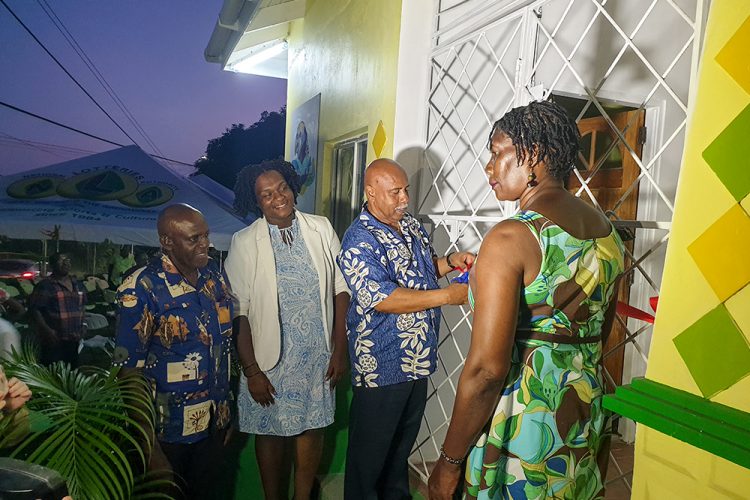 The National Cultural Foundation (NCF) now has to operate on a different level, become more visible and be held accountable for the development of the arts in St Vincent and the Grenadines (SVG).
This according to Minister of Tourism, Sports and Culture Cecil McKie who spoke recently at the opening of the National Development Centre of the Arts.
The new facility, considered a home for culture and the arts, opened on Friday, September 18 at New Montrose in building that formerly housed the Imani Pre-School.
McKie said the facility, which houses a fine arts gallery, a craft centre and the office of the NCF, is expected to play a major role in the advancement of culture and the arts in the country. The NCF is headed by Chairman of Wollis Christopher and the curator of the art gallery is Sherika Sayers.
The culture minister said the new space has been created for among other things, cultural artistes and others to receive training.
McKie, culture minister since 2012, said very often persons look at culture as being unimportant and without value.
"…a sideshow, a past time. They do not see the potential and real value of culture in St Vincent and the Grenadines and I think that is why so often the cultural practitioners and administrators have to fight hard to get things done and to achieve things and that is why this afternoon is special to see the efforts of the stakeholders come to fruition," McKie told the opening.
The centre is expected to deliver training programs for schools, children and adults while McKie is hoping that families and parents can use the facility not only for shopping and viewing of arts and craft, but to learn.
"This facility is an obvious opportunity for art and craft persons to produce. It has a space for the display of art and craft and it is a family type setting and income earning opportunity for persons in art and craft as well as being a space for training and development and stakeholders now have a space they can identify with," the minister commented.
McKie, who is also the tourism minister said the facility also benefits the tourism sector as it is a stone's throw away from the Botanic Gardens and tour guides have an opportunity to offer a packaged tour which includes the centre, the gardens and a nearby steel pan yard.
He said the facility can also be used to place emphasis on cultural tourism, "to let persons know it is real" by making available for purchase, art and craft pieces that reflect SVG, while making sure that the training offered is of a high quality and appropriate.