Posted on
Art is an essential part of production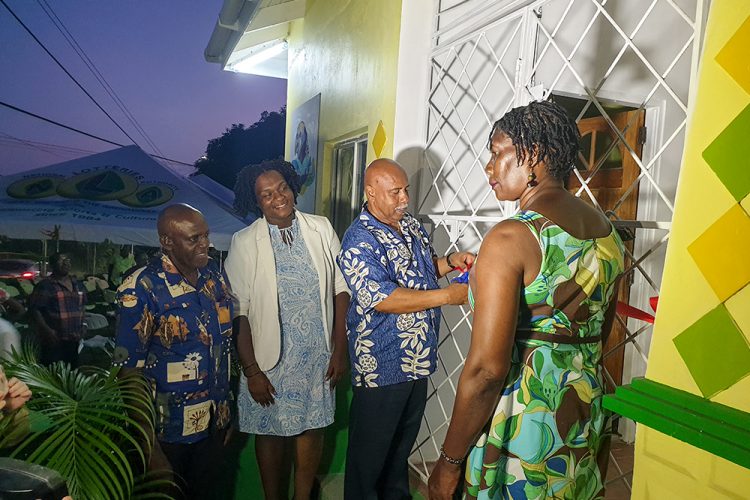 Artist Sherika Sayers believes that locally, the visual arts have developed a bad reputation while being seen as something that is "difficult" to do.
Sayers of Art 'N' Action, a local Non-Governmental Organization (NGO), told a gathering on Friday that she has been a professional artist for about 14 years and she senses a lot of negative vibes when it comes to art.
Sayers was speaking at the opening of the National Development Centre of the Arts in New Montrose.
The centre is located in the building that formerly housed the Imani Pre-School and is considered a home for culture and the arts. It houses a fine arts gallery, a craft centre and the office of the National Cultural Foundation (NCF).
Sayers is the curator of the fine arts gallery.
Addressing the gathering, Sayers said after completing studies in Canada, she came back to St Vincent and the Grenadines (SVG) with the hopes of building the visual arts, especially among the youths.
She said in her opinion, "…visual arts seems to have developed a bad reputation to be seen as something difficult or something 'oh I was not born with the gift of drawing, I don't have that talent',…"
But Sayers is of a different opinion, that is, persons do not realize, "that each of us was born a creator".
She said as we mature, we are being trained not to be creative and we tend to force students into areas like finance, business, law and teaching as those careers seem to be more profitable than the arts.
"I have seen a lot of creative, talented children in my time of teaching. Hopefully this space will allow us to develop more talented youths and establish more craft makers," said Sayers of the newly opened centre.
She noted that the new space will help sculptors, photographers, painters, artists and film makers strive and this is important as art is not just about drawing and painting.
"Without art, you can't have cars. We need people to design these cars. We cannot have tangible items without having a design in the beginning, so it is important for us to establish that base before we move on to career choices," Sayers said while adding that she is not doubting the importance of lawyers and doctors, but we do need visual artists and it is a dying field that she hopes to see build, now that we have the centre.
"It is not completed, but we hope to see it become something we can take on a larger scale," Sayers stressed while adding that the facility was a long time coming.
"Vincentian artists and craft people can finally say we have a space to call our own," Sayers said.
The opening ceremony also heard from Minister of Culture Cecil McKie and Chairman of the St Vincent and the Grenadines National Trust and former Cultural Officer Anthony Theobalds.