Posted on
17 students now effective Event Managers, thanks to UWI's online course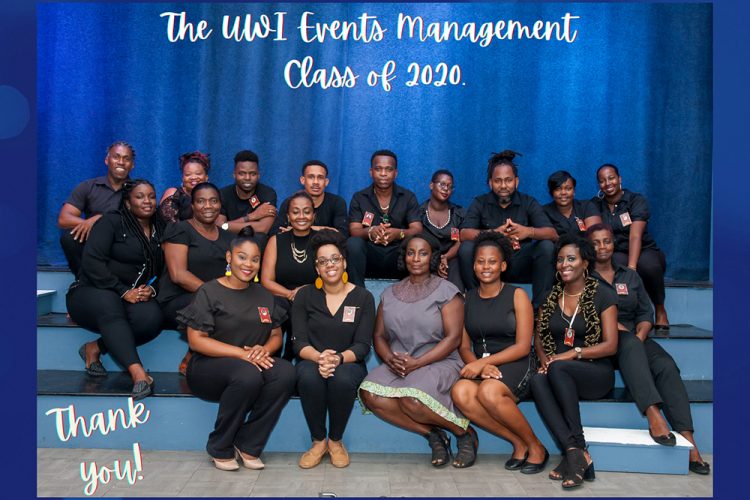 Over a three-month period, 17 students pursued a certificate program offered by the University of the West Indies Open Campus. The virtual studies of three hours duration for each class saw students covering a variety of subject areas enabling them to become effective Event Managers.
Apart from the written assignments completed by the students, the course guidelines stipulated the execution of a final project. This provided the opportunity to assess each student's qualification through their developed work plan and the staging of an associated event.
On Wednesday, September 2, from 7:00 pm, the Inaugural Events Management class executed an event dubbed "Lip Sip" which featured poetry and music. This invitation only activity, featured a wine & cheese cocktail style event on the lower floor of the Peace Memorial Hall. As patrons entered the upper floor, they were greeted with a hall that was transformed for this special occasion. The décor included couch settings upfront for the UWI officials and a series of cocktail tables and cocktail chairs appropriately placed. Covid-19 protocols included temperature checks for all students, cast, UWI officials, guests and workers. Hand sanitizers and masks were also provided to all persons entering the venue.
Tutor of the class Cherill Barnwell was presented with a gift of appreciation from the students. She expressed appreciation for the gift and used the opportunity to emphasize how pleased she was at the level of production undertaken by the class. The Peace Memorial Hall also received a donation of two fire extinguishers from the students. They were presented to David "Darkie" Williams by Esworth "Ezzie" Roberts and Orande "Bomani" Charles on behalf of the class.
The artistes who graced the stage at this event included Adrian Constance, Jerron James, Anthony and Andre Theobalds and The Dynamic Impulse Band.
Special thanks were extended to their sponsors who made this possible. They were Coreas Distribution Ltd, Exquisite Events, Mountain Top Spring Water, SVG Tourism Authority, Courts SVG Ltd, GECCU, Peace Memorial Hall, Black Stone Images, CDC, De Revellers, Saw Dust, and Francis Cleaners.