Posted on
Young man making the best of second chance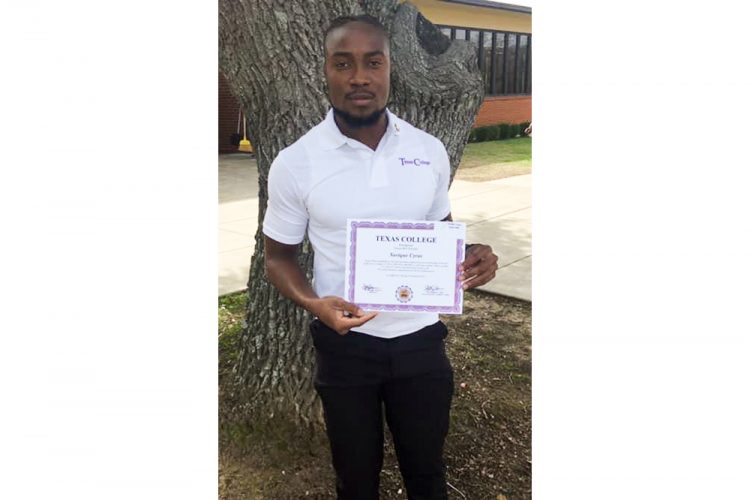 Having conceded that he "fooled around", while he was a student of the Georgetown Secondary School, Xavique Cyrus is turning his past into what he hopes is a brighter future.
Cyrus, 28, is thanking his new focus on life to the opportunity to go to the United States of America, and a second chance to educate himself formally, by attending the Texas College and Tyler Junior College there.
Born in Orange Hill, but lived in Georgetown, Cyrus left St Vincent and the Grenadines in 2016 for the USA, then according to him, "there came the life changer".
"I never had the opportunity to go to college in St Vincent and the Grenadines, because I fooled around in secondary school… Now I have a second chance to make something of my life," Cyris told SEARCHLIGHT.
He described his young adult life in St Vincent and the Grenadines as a struggle, because of his own undoing, but vowed not to wallow in his pity and missed opportunities.
"The struggle was real for me… I could not find a job, because I did not have the subjects and I looked at some of my friends who were working and was regretting, but my past has helped to shape my future," Cyrus reasoned.
Before leaving St Vincent and the Grenadines, Cyrus was known more for his exploits in athletics, competing in the 200 and 400m, as he was a member of the X- Cel Track Club and the IT-DAT Academy.
This he said helped him in making the nexus in the US educational system.
Combining track and his academics, Cyrus pursued an associate degree in General Studies at Tyler Junior College, and was among 441 students who were part of 24 ceremonies for graduating students, August 12 to 14.
"That graduation meant a lot to me… I was glad to walk across the stage holding the St Vincent and the Grenadines flag," Cyrus related.
With the desire to optimise every occasion to make up, Cyrus is into a wellness and exercise science programme, as he chases a master's degree.
"I am working hard to achieve the best in life, and help others where I can," Cyrus said.
Cyrus' intent of helping others has come from not getting much of an ear while he was going through his struggles here in St Vincent and the Grenadines.
He however, is not laying blame on persons who had influenced on him, like his coaches, as he disclosed, he kept his issues to himself.
"Back home, I never had one and one with my coaches … Up here (USA), it has been different for me, because persons have reached out to me," Cyrus said.
Inspired by his change in attitude and focus, Cyrus projectd: "I want to be a positive role model, and help other struggling athletes to get the opportunity that I got… I would, in anyway, see if I can assist others, because others were there for me".
Cyrus noted that he has been keeping in contact with fellow Vincentian athletes schooling in the USA.
And, one of Cyrus' long-term goals is to set up his own gym here in St Vincent and the Grenadines.