Posted on
Abuse is bad, but it's not the end of the world – victim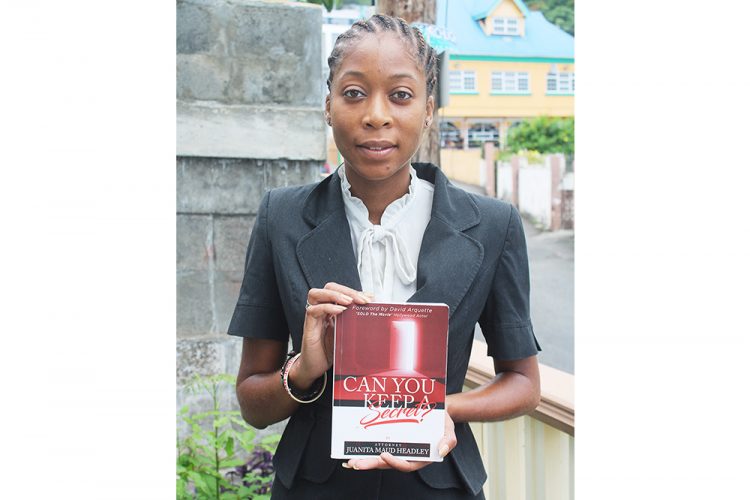 Being abused does not signal the end of the world for the victim.
Just ask British author, Juanita Headley who has pushed past her own experience with sexual abuse to become a trained cook, lawyer and public speaker.
"Even though I was abused and screwed up according to my family, I've accomplished a lot," Headley said in a recent interview with SEARCHLIGHT. "It's not so much about the past. It's about the future. I didn't become a prostitute, I'm celibate, I'm a strong Christian. I'm not sleeping around to empower myself therefore it's to make you realise, you don't have to do that. There is another option…"
Headley is in St Vincent and the Grenadines, promoting her book, 'Can you keep a secret?', which addresses issues of abuse and human trafficking.
The author noted that abuse can often lead to human trafficking but very few make the connection.
"Everywhere in the world, we have Internet, you have lockdown, that means cybersex is going up. Kids are at home with the phone, sending nude photographs. Men, sometimes women, exploiting and so it is a huge issue that's not been spoken about in certain communities like in the Caribbean," she said.
Headley, whose parents originate from Jamaica, visits Trinidad frequently for speaking engagements on this very issue.
Her book, which features her story of abuse when she was a teen, also serves to inform on ways of safeguarding against childhood sexual abuse, signs and symptoms of childhood sexual abuse, behavioural indicators for younger and older children and disclosure of sexual abuse.
It was written in Trinidad in August 2018 and published and officially launched in Ghana on June 1, 2019.
"A lot of kids ask this question (Can you keep a secret?) and they get the wrong answer – 'It depends' and they don't disclose. When you say yes, they'll open up then you can protect them from domestic violence," the first-time author said. "When you say it depends, they won't respond correctly. They will just walk away from what you said, they will decide, let me not talk to you, let me not disclose."
Headley said it is almost cultural in the Caribbean to not want to talk about issues of abuse for fear of airing "dirty laundry" to the public. But she said that abuse and human trafficking are important world issues that must be acknowledged and given the necessary attention.
'Can you keep a secret?' is being sold at Gaymes Bookstore for EC$70 and 60 per cent of the book's proceeds are contributed to building safehouses in the Philippines, which ranks number one for cybersex trafficking.
Headley will be speaking at the New Testament Church of God in Wilson Hill on Thursday, September 3 from 7 to 9 pm. The session is free of cost but donations are welcome. Persons interested in registering can contact Headley via WhatsApp at 1784-454-1693 or email: [email protected]