Posted on
Rotary Club of St Vincent donates backpacks to six primary schools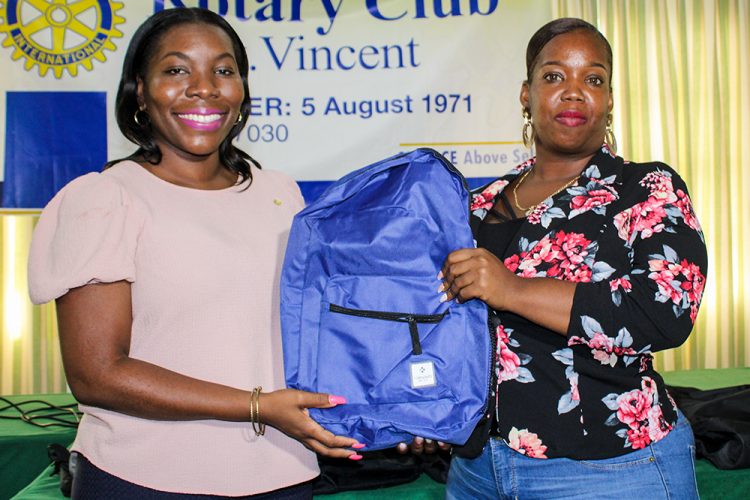 Six Primary Schools across the country will each see 20 of their less fortunate students entering this school term with new backpacks, and a set of school supplies donated by the Rotary Club of St Vincent.
President Elect of the Rotary Club, Janelle Allen, explained, yesterday August 27, at the handover at Grenadine House that the receiving schools are: the Langley Park Government, Fitz Hughes, Stubbs, Questelles, Kingstown Government and Kingstown Anglican schools.
This is the Rotary Club of St Vincent's second service project for the 2020-2021 Rotary year.
The project is done with a view to easing the financial strain caused by the Covid-19 pandemic. "We just thought it would be good to assist parents and help their students to get back to school (on September 7) with the supplies that they need," Allen noted.
"Our theme this year is 'Rotary opens opportunities' so this in a sense opens opportunities for education which is one of our areas of focus," she explained.
The Club will allow the Principals of the schools to determine the students most in need of the assistance.
The backpacks were donated by an anonymous donor and the supplies contained in every bag – including a pen, pencil, eraser, sharpener, ruler, exercise books, a notebook, a drawing book, pencil case, and a pack of crayons – were purchased by funds from club members.
Guidance counsellor at the Kingstown Anglican School, Chellise McPherson, was present yesterday to receive the donation on behalf of the school.
"We are so elated that our school is on board because we have a lot of disadvantaged children at our school," McPherson disclosed, and basic amenities such as running water and electricity are not available to some.
In stating that the help will go a long way, the teacher of more than a decade disclosed "we've had students that have had torn bags, and we had to use plastic bags."
The Kingstown Anglican has already identified some of the students who may receive the help and notified them.
"Some of them were so excited, they were like 'Miss you have the bag?' You know they were so ready to come for the bag because their parents had not been able to purchase a bag as yet," the counsellor revealed.
McPherson expressed the hope that it was the beginning of a relationship between the Rotary Club and the school wherein "they will remember us".
Likewise, the Principal of the Langley Park Government School, Elva Springer, expressed the school's appreciation to the Rotary Club for the donation.
"Most of our children really struggle and each year we try to see how we can assist them so you providing this for us, calling us and making this offer really would go a long way to help those children who are deserving," she commented.
She too expressed a desire for a continued relationship between the Club and the School, wherein they would reach out to them in the future.